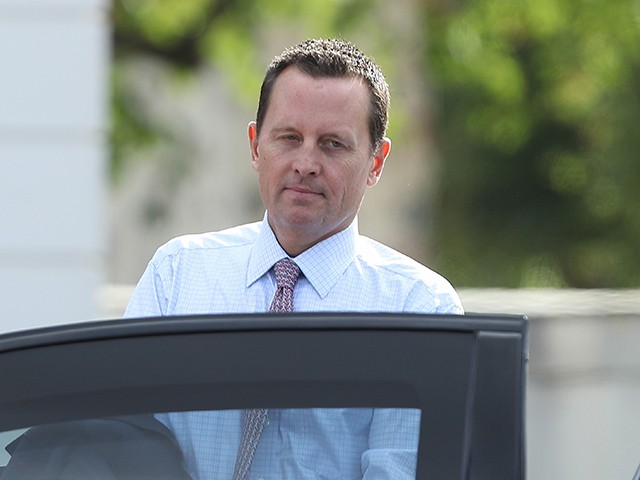 Far-left CNN blamed America's most high-profile openly gay U.S. Ambassador for the death threats he's been receiving.
Richard Grenell, our ambassador to Germany, has "been receiving threats including at least one against his life," CNN reports. But in the original headline the last-place anti-Trump outlet referred to Grenell as "controversial," as though those threats are somehow justified.
"Controversial US ambassador to Germany receives threats," the original headline read.
But after social media users complained, including President Trump's son, Donald Trump Jr., the ratings-embattled outlet quietly changed the headline.
"USA's most effective ambassador is "controversial," and it looks like CNN feels like the threats he's been receiving just might be justified because he's been systematically implementing @realDonaldTrump's foreign policy agenda. What a disgrace," the younger Trump tweeted.
The CNN headline now reads: "US ambassador to Germany receives threats."
The article spends three paragraphs gratuitously attacking Grenell.
"Grenell is a controversial figure in his host country — warning the German government against pursuing a gas pipeline to Russia, using Chinese technology and business contracts with Iran," CNN reports — as though 1) a U.S. ambassador seeking to further the American president's policies is all kinds of weird, and 2) I'd like to know how Trump trying to convince Germany to end its energy dependence on Russia fits into CNN's two-year Russia Collusion Hoax.
Maybe CNN can explain why Putin's Puppet works so hard to remove Germany as a Russian client state?
Anyway, CNN then attacks Grenell as both "incendiary" and "polarizing."
Prior to being appointed to his ambassadorship, Grenell was a very effective media critic on social media, one who frequently exposed CNN's biases, unprofessionalism, and dedication to fake news.
This might explain why the failing cable channel is apparently so eager to justify death threats against our own ambassador.
CNN frequently calls for, encourages, and justifies violence against Trump and his supporters.
Follow John Nolte on Twitter @NolteNC. Follow his Facebook Page here.
http://feedproxy.google.com/~r/breitbart/~3/XVb3jPp8sMY/