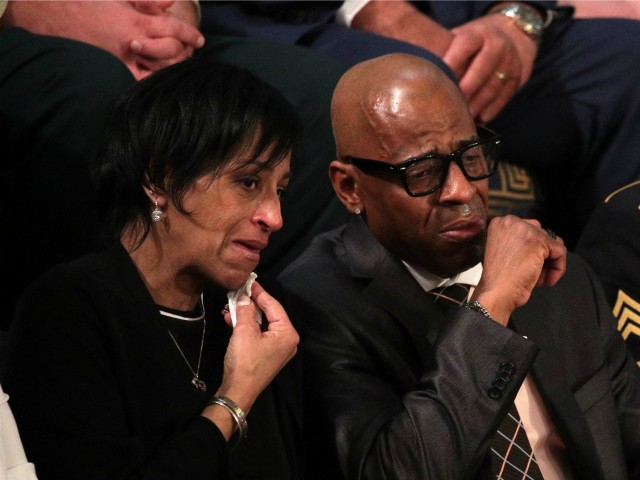 The grieving mother of a 16-year-old girl murdered by MS-13 gang members, whom President Trump later honored at the 2018 State of the Union address, was fatally struck by an SUV Friday in Long Island near her daughter's memorial site after getting into an altercation with the driver.
Evelyn Rodriguez, 50, was set to attend a vigil marking the two-year anniversary of her daughter's death when the driver struck her around 4:00 p.m. in Brentwood, New York.
Her daughter, Kayla Cuevas, was found dead in September 2016 in a woodland area of Long Island known for incidents of MS-13 violence.
Rodriguez and another person were in the street engaged in a heated verbal confrontation with the driver of the SUV before the vehicle hit her, police told the Associated Press. Rodriguez was later pronounced dead at a local hospital.
The driver was not immediately arrested, but Suffolk County police are continuing to investigate the incident, authorities said.
President Trump, who invited Rodriguez to the 2018 State of the Union address, offered his "thoughts and prayers" to Rodriguez and her loved ones:
My thoughts and prayers are with
Evelyn Rodriguez this evening, along with her family and friends. #RIPEvelyn https://t.co/wMwxRdjBHM

— Donald J. Trump (@realDonaldTrump) September 15, 2018
Other government officials in New York remembered the devoted mother and tireless advocate, including Rep. Peter King (R-NY), Gov. Andrew Cuomo (D), and Suffolk County District Attorney Tim Sini:
Evelyn Rodriguez has passed away. Terrible news. RIP

— Rep. Pete King (@RepPeteKing) September 14, 2018
King called Rodriguez's death "terrible news," while Cuomo said Rodriguez had "tremendous courage." Sini called her a "fierce advocate" who spoke out against MS-13 and the local school district for not doing enough to prevent the violence.
"She was a fierce advocate for her hometown of Brentwood and was fearless in her fight to put an end to the violence caused by MS-13 to ensure that other parents never have to endure the pain she suffered," Sini said.
Rodriguez has been outspoken about gang violence since MS-13 members attacked and killed Cuevas and fellow student Nisa Mickens, 15, with baseball bats and machetes in 2016.
The mother sued the Brentwood School District for $110 million because employees at the school failed to notice warning signs of MS-13 gang members threatening her daughter, and she testified before a House subcommittee in June, calling for a stop to these crimes.
http://feedproxy.google.com/~r/breitbart/~3/1uTRt4UyrbE/