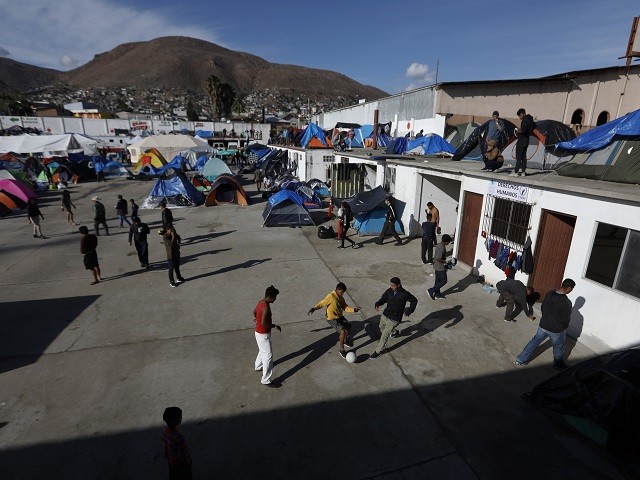 SAN YSIDRO, California — Officials in Tijuana moved approximately 2,000 caravan migrants from their original shelter site due to health and sanitation concerns.
Mexican officials moved just over 2,000 to a new encampment after determining the original location was overrun with raw sewage and trash after several days of heavy rain, local media reported.
The original Benito Juárez Sports Complex site sits only feet away from the U.S. border. Officials moved the caravan migrants to a former concert venue approximately 10 miles to the southeast of the international border. "El Barretal" is located in one of Tijuana's most dangerous neighborhoods, colonia Mariano Matamoros.
The move to the new temporary shelter began on Thursday and was led by personnel of the National Institute of Migration (INM). The agency will assume full control providing food, medical care, and a secure location for those who choose to relocate. While the move is not a mandatory one, authorities will be shutting down services at the original location.
The new shelter will be used by migrants primarily from Honduras and other Central American countries as they wait their turns to request asylum in California. Others appear to bide their time before attempting to cross illegally into the United States.
According to local news outlet Milenio, migrants are classified into three categories:
those interested in seeking asylum in the U.S.;
those who would like to stay in Mexico; and,
those who wish to return back home.
Local media report that approximately 2,000 requested to return home. According to the most recent official count, a total of 2,385 of the 6,062 housed at the Benito Juárez Sports Complex agreed to be relocated. Those who refused reportedly decided to stay near the original location out of fear of being tricked into deportation.
Breitbart News toured the Benito Juárez Sports Complex on Friday, as documented in an exclusive report which described the very poor and unsanitary conditions and reported seeing, "a lot of sick people," and "people wearing masks and a lot of people coughing."
The reporting added, "They're living in a flooded situation, a lot of water, a lot of backed up portable toilets … so the conditions are very bad. … It's really the filthiest stuff I've ever seen, and I've been in a lot of places … These are pretty heinous conditions."
Milenio noted that in the first meeting held by authorities of the new Mexican president, Andrés Manuel López Obrador, "it was determined that the federal Welfare Secretariat will be responsible for assigning resources to improve the conditions in which the shelter is located." The newly installed government will be coordinating with state and municipal authorities in handling the needs of the migrants while they are in Mexico.
Robert Arce is a retired Phoenix Police detective with extensive experience working Mexican organized crime and street gangs. Arce has worked in the Balkans, Iraq, Haiti, and recently completed a three-year assignment in Monterrey, Mexico, working out of the Consulate for the United States Department of State, International Narcotics and Law Enforcement Program, where he was the Regional Program Manager for Northeast Mexico (Coahuila, Tamaulipas, Nuevo Leon, Durango, San Luis Potosi, Zacatecas.)
http://feedproxy.google.com/~r/breitbart/~3/49OXDX5HZyo/