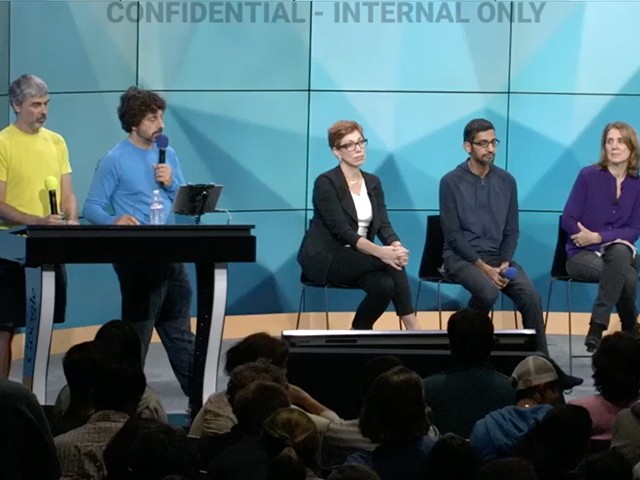 Fox Business reporter Adam Shapiro warned viewers Wednesday to be skeptical of a 60-plus minute Google Tape … because the video was released by Breitbart News.
"We have some leaked video. It comes from Google," one of Shapiro's fellow anchors says. "The Google bosses, they were pretty hysterical after the election of Donald Trump in 2016."
At this point, Shapiro jumps in dismissively: "Yeah, take this with a grain of salt because it's coming — it was Breitbart News which actually got this video."
Breitbart News released over 60 minutes of unedited footage — the entire Google executive meeting from beginning to end.
Shapiro never explains how you are supposed to take over an hour of unedited footage with "a grain of salt."
Shapiro continues, "You decide whether this is a smoking gun or not. But the video shows Google executives consoling their colleagues after Donald Trump won the presidency."
Shapiro's claim the video shows "executives consoling their colleagues" does not even come to close to describing what the video actually discloses. In fact, Shapiro's description of the video is the most charitable and narrow description one could come up with.
After showing his clip of the least controversial parts of the video (executives expressing their unhappiness with the election), Shapiro helpfully adds (if you are Google) that "other parts of the video go on to say that the election is the result of the people and voting and that they accept the results."
Shapiro then reads Google's statement denying any bias.
At no point does Shapiro suggest his viewers might take Google's statement with "a grain of salt," especially when the video shows Google top executives vowing to leverage their unbelievably powerful search engines to manipulate the outcome of future elections.
What's more, during this segment, Fox Business and Shapiro chose not to even inform viewers of these bombshells, of what are objectively the most newsworthy and relevant parts of the video, namely:
Company co-founder Sergey Brin tellings his employees: "it's worth being very vigilant and thinking about all these issues, what we can do to lead to maybe a better quality of governance and decision-making and so forth [emphasis added]."

Company CEO Sundar Pichai sees AI and machine learning as a "big opportunity" to fight "misinformation."

Both men reference Google's "Jigsaw" project, which hopes to fight extremism in part by using machine learning to redirect suspected extremists to handpicked content aimed at changing their opinions. This was pitched as a tool to fight the Islamic State — but here, Google executives are talking about it in relation to law-abiding voters.

Company CFO Ruth Porat promises that Google will "use the great strength and resources and reach we have to continue to advance really important values."

Kent Walker, VP of Global Affairs, says of the Deplorables defying the globalist elite: "we have to work so hard to ensure that it doesn't turn into a World War or something catastrophic, but instead is a blip, is a hiccup."
Shapiro then says, "Go check out the entire video without the editing. You decide."
Follow John Nolte on Twitter @NolteNC. Follow his Facebook Page here.
http://feedproxy.google.com/~r/breitbart/~3/e4T75fyLdOU/