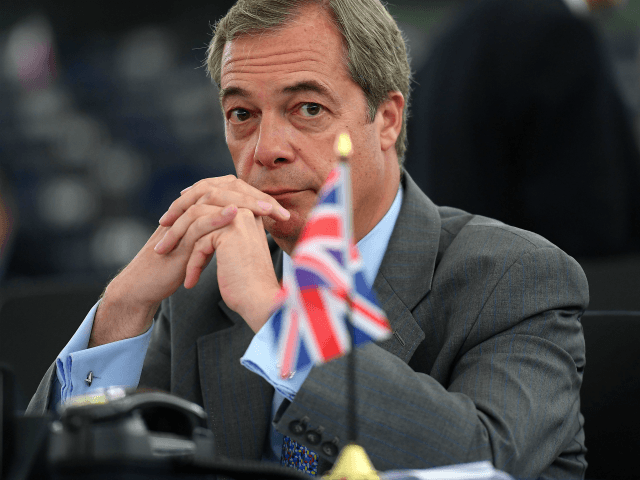 Brexit campaign leader Nigel Farage has warned that the British political class are "colluding" with their European counterparts to thwart Brexit after an email leak.
The LBC host and former UKIP chief is still a working Member of the European Parliament (MEP), and was able to reveal an email from colleague Alyn Smyth — of the anti-Brexit, left-wing, Scottish 'nationalist' SNP — sent to every politician in the 751-strong European Parliament, urging them to help EU loyalists in Britain delay and ultimately defeat Brexit.
"Despite our political differences, as UK MEPs we are united around one fact: if you wish to allow the UK to remain within our EU family, then all ways to do so will necessitate an extension of the Article 50 timetable," Smith wrote.
"Whilst we acknowledge that many details of the next few months remain unclear, it is in a spirit of friendship, solidarity and respect that we ask you, our European friends, to start thinking about this possibility and be ready for this eventuality."
The activation of Article 50 — the EU-mandated mechanism for leaving the bloc — set in train a two-year negotiation period before Britain's exit, and cannot be extended without the agreement of British and EU institutions.
True Colours: Parliamentarians Vote Clegg's 'How to Stop Brexit' Their Book of the Year After Secret Ballot https://t.co/PtHM1XRf5M

— Breitbart London (@BreitbartLondon) December 6, 2017
Farage further revealed that Hans-Olaf Henkel, an influential German MEP and former head of the Federation of German Industry, had taken up Smyth's call enthusiastically, replying: "I support everything which would avoid a Brexit, including anything which could delay it. Let me advise you that I have talked to both [European Commission] President [Jean-Claude] Juncker and to [Austrian] Chancellor [Sebastian] Kurz about our initiative."
Denouncing the plot in a column for The Telegraph, Farage declared that Smyth "and the 13 British MEPs who showed utter contempt for their own people in signing his letter, are conspiring with the Germans to make sure Britain cannot become competitive after Brexit."
"I think their intention is to derail Article 50. I call that a collusion against democracy. And I believe they should all hang their heads in shame," he concluded.
List of letter signatories in full:
Alyn Smyth MEP (Scottish National Party)
Catherine Bearder MEP (Liberal Democrats)
Seb Dance MEP (Labour)
Jill Evans MEP (Plaid Cymru)
John Howarth MEP (Labour)
Wajid Khan MEP (Labour)
Jude Kirton-Darling MEP (Labour)
Jean Lambert MEP (Green Party)
Clare Moody MEP (Labour)
Molly Scott-Cato MEP (Green Party)
Catherine Stihler MEP (Labour)
Charles Tannock MEP (Conservative Party)
Derek Vaughan MEP (Labour)
Julie Ward MEP (Labour)
Follow Jack Montgomery on Twitter:

 @JackBMontgomery
Follow Breitbart London on Facebook:

 Breitbart London
http://feedproxy.google.com/~r/breitbart/~3/-jo9Nj7V56Y/