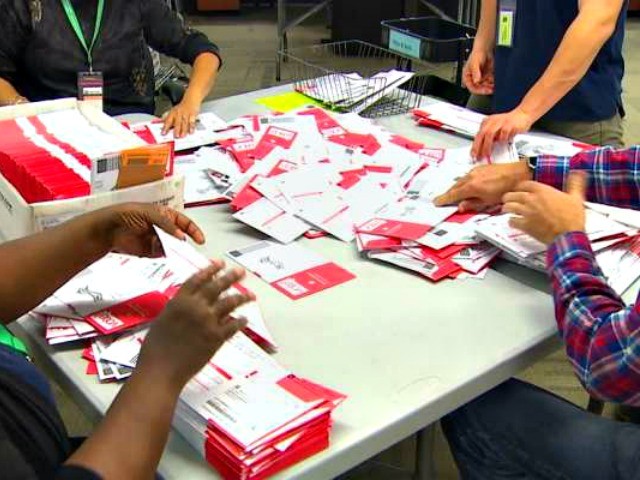 Maine GOP executive director Jason Savage called for replacing a Maine Secretary of State staffer on Monday in light of biased tweets against Rep. Bruce Poliquin (R-ME).
Maine will continue counting ballots for Maine's second congressional district, which has yet to be called nearly one week after the November midterm election.
Over the weekend, Rep. Poliquin claimed that he won the congressional race, in which he leads by roughly 2,000 votes.
Maine will determine the winner of the congressional race by "ranked-choice" in which voters rank all candidates by preference; the ranked choice ballot applies when no single candidate receives a majority of the vote.
Now, the Maine GOP called on the Maine Secretary of State to reassign a staffer, Andrew Roth-Wells, to avoid counting the ranked-choice ballot counting process over liking tweets supporting Jared Golden, Poliquin's Democrat challenger, and attacking Rep. Poliquin.
Jason Savage, the Maine GOP executive director, said in a press release on Monday, "Someone who cheers for Jared Golden to be Maine's next Congressman cannot be put forward as an impartial participant."
"We call on Secretary of State Matt Dunlap to reassign this staffer, Andrew Roth-Wells, to a task separate and apart from the ranked-choice voting process," Savage added.
"It's a simple request that can be accomplished easily," Savage said. "No name calling, no accusations. Just a simple request with the integrity of the process in mind."
Savage, in an exclusive statement to Breitbart News, contended that any staffer that counts ballots should be impartial.
"It is critical in this very sensitive situation, that all staff handling ballots and materials be impartial. For the integrity of the process, staff who have clearly shown a bias in favor of, or opposed to, any candidate, should not be handling ballots," Savage told Breitbart News.
Maine's 2nd congressional race represents one of the several midterm races that officials have yet to call, which includes the controversial Florida Senate and gubernatorial race, as well as the Georgia gubernatorial race.
http://feedproxy.google.com/~r/breitbart/~3/WBmuHOqX2Xs/