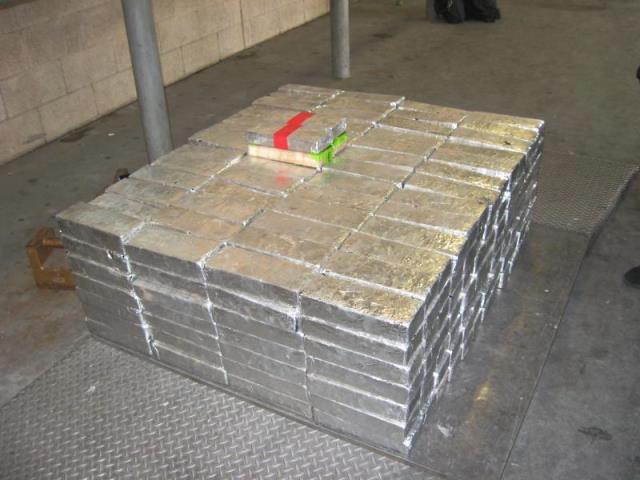 U.S. Customs and Border Protection (CBP) officers seized a half a ton of methamphetamine estimated to be worth more than $14 million dollars as smugglers attempted to move the drugs through a South Texas border crossing. The smugglers allegedly concealed the methamphetamine within a commercial shipment of fresh produce this past Wednesday.
CBP officers assigned to the Office of Field Operations (OFO) at the Pharr International Bridge came upon a tractor-trailer hauling a commercial shipment of fresh produce consisting of fresh bell peppers crossing into the U.S. from Mexico. Officers referred the tractor-trailer to a secondary inspection station, according to information obtained from CBP officials.
During further inspection, officers scanned the trailer with a non-intrusive detection system and a K-9 detection officer led handlers to a concealed cargo suspected to be methamphetamine, officials stated. After a preliminary test of the suspected methamphetamine, which produced positive results, officers offloaded the cargo and found a total of 364 packages of the drug weighing a total of 1,005 pounds (456 kilograms).
Officers also located four packages of cocaine weighing 9.92 pounds of (4.5 kilograms).
Officials reported the total value of the contraband to be an estimated $14,152.000, according to a media release issued by U.S. Customs and Border Protection and Department of Homeland Security.
Federal officials seized the drugs and the tractor/trailer, Officers turned the case over to Homeland Security Investigations (HSI) agents. Officials did not report what, if any, arrests pertaining to this seizure were made.
"This was truly an outstanding interception of hard narcotics that our CBP officers (affected) yesterday at the cargo facility," Port Director David Gonzalez, Hidalgo/Pharr/Anzalduas Port of Entry, said in a written statement. "A seizure of this magnitude is a positive enforcement action against drug smuggling organizations, one that will certainly make a difference in our fight against drugs."
CBP officers and Mexican law enforcement and military personnel continue to make large seizures of methamphetamine, and according to Breitbart News law enforcement sources, these drugs come from Mexican drug cartels who deployed super-drug labs enabling mass-production of product for the U.S. market and ever-expanding local Mexico market distribution market.
Robert Arce is a retired Phoenix Police detective with extensive experience working Mexican organized crime and street gangs. Arce has worked in the Balkans, Iraq, Haiti, and recently completed a three-year assignment in Monterrey, Mexico, working out of the Consulate for the United States Department of State, International Narcotics and Law Enforcement Program, where he was the Regional Program Manager for Northeast Mexico (Coahuila, Tamaulipas, Nuevo Leon, Durango, San Luis Potosi, Zacatecas.) You can follow him on Twitter. He can be reached at robertrarce@gmail.com
http://feedproxy.google.com/~r/breitbart/~3/HVMdRDAcQXE/