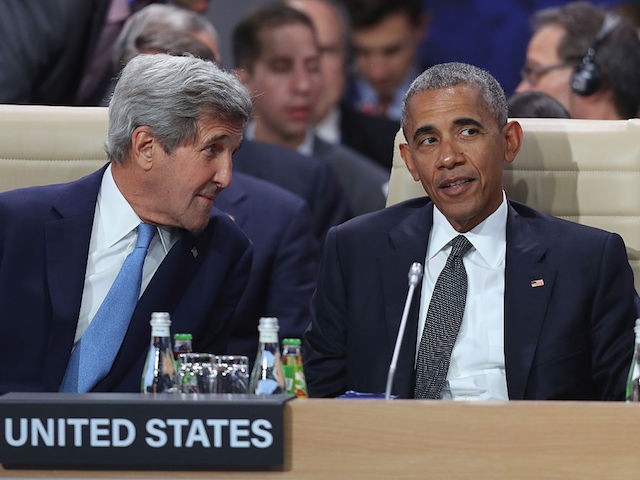 The name of General Douglas MacArthur was a household word during World War II and the Korean War. In April 1951, fired by President Harry Truman after 52 years of service, MacArthur gave a farewell speech to Congress, famously referencing a barracks' ballad that proclaimed, "old soldiers never die; they just fade away."
He added, "And like the old soldier of that ballad, I now close my military career and just fade away, an old soldier who tried to do his duty as God gave him the light to see that duty."
With former President Barack Obama leaving office and now leading a "shadow" government to undermine his successor, with Michelle Obama telling us she is our "Forever First Lady" and with former Secretary of State John Kerry meeting Iranian officials to coach them on how to keep intact a nuclear deal badly negotiated by him and abandoned by President Donald Trump, none of the three have heeded MacArthur's advice. Like most former presidents, their wives and their Cabinet secretaries, all refuse to "just fade away … (having) tried to do (their) duty as God gave (them) the light to see that duty." Instead, they are doing everything they can to undermine Trump's domestic and foreign affair policies.
Historians will determine at some future date whether, in setting a liberal pace for America during his two terms in office, Obama and company ever really saw "the light." The disastrous policies they implemented on a domestic level have created the tribal politics we face today while, on a foreign policy level, their non-confrontational approach to global threats has left us facing a much more dangerous world.
Not content to pass the leadership baton to Trump for fear their own legacies might be reduced to a mere footnote in history, Obama and his cronies act as if they are still in office. The damage they are doing to our country by doing so is unacceptable and must be stopped. A good place to start is taking action against Kerry whose unauthorized negotiations are harming us on two fronts.
The first front obviously involves Iran and the European countries that signed off on the very one-sided (in Tehran's favor) nuclear deal Kerry negotiated.
In his efforts to save his nuclear agreement, Kerry has met with the Germans and French, whom he has encouraged to honor the deal. Just like former President George W. Bush had implemented economic sanctions that were bleeding Iran, only to have Obama then remove them when he took office, Kerry now seeks to convince the Europeans to circumvent Trump's sanctions against Tehran that are causing them to suffer a similar economic bleeding. Meanwhile, Kerry advises the mullahs to wait Trump out.
Kerry has boastfully admitted to meeting with the Iranians. Apparently finding comfort in numbers, he enlists the help of fellow Iran nuclear negotiation team member and former Energy Secretary Ernest Moniz as well as a group of Obama-era State Department officials.
Tehran — ecstatic Trump is outraged over Kerry's meetings — even published a communications exchange between the two. After Trump accused Kerry of having "illegal meetings with the very hostile" Iran, the former Secretary of State told Trump, "if you want to learn something about the nuclear agreement that made the world safer, buy my new book, Every Day Is Extra."
But there is a second negotiating front that Kerry's actions are negatively impacting as well, further endangering U.S. national security.
As Kerry coaches Tehran to wait out what he believes will be a one-term presidency, what is lost in the shuffle is that Kerry, indirectly, is also coaching the North Koreans. As Pyongyang and Tehran share nuclear and missile technology, both seek to pursue their programs as they learn to circumnavigate Trump's efforts to stop them. Due to Kerry's input, both nations are mapping out ways to do just that.
For example, take North Korea's recent agreement with South Korea on steps by which the former's nuclear program is to be dismantled. At first blush, it may seem encouraging. But we need remember North Korean dictator Kim Jong-un is being coached by China, which undoubtedly advised him to condition denuclearization on the U.S. taking corresponding measures. His agreement with Seoul uses vague terms that will give Kim wiggle room to wait Trump out. China also encourages Kim to create a divide between U.S. and South Korean interests as a further delaying ploy. All of this may well be influenced by Kerry's discussions with Tehran.
Meanwhile, South Korea's naïve President Moon Jae-in, having met Kim in Pyongyang, reports the dictator is eager to "speed up the denuclearization process."
Kerry has never been one to shy away from meeting with our enemies. As a Vietnam war veteran, laying the foundation for his political career, he met with representatives of the communist North Vietnamese government in Paris in 1970. Later, in 1985, as a senator, he went to Nicaragua to embrace and negotiate with another communist leader, Daniel Ortega.
While Kerry's previous violations triggered zero accountability, Senator Marco Rubio (R-FL) sent a letter to Attorney General Jeff Sessions on September 18th  that, hopefully, will do so. Rubio has requested Kerry's actions be investigated as violating U.S. laws, including his failure to register as a foreign agent.
We have heard the idiom "too many cooks spoil the broth." The expression alludes to the fact the more cooks involved, the more each sees a need to add something to the soup, eventually spoiling the end product. The idiom has been in use ever since the 16th century to explain what to expect when several influencers play a role in deal-making. In this vein, it is difficult to envision a nuclear agreement worse than the one Kerry originally negotiated with Tehran possibly emerging as the end product of having too many influencers dealing with Tehran during Trump's tenure. However, it is a possibility worrisome enough to demand steps be taken now to legally remove Kerry and his cohorts as influencers.
Lt. Colonel James G. Zumwalt, USMC (Ret.), is a retired Marine infantry officer who served in the Vietnam war, the U.S. invasion of Panama and the first Gulf war. He is the author of "Bare Feet, Iron Will–Stories from the Other Side of Vietnam's Battlefields," "Living the Juche Lie: North Korea's Kim Dynasty" and "Doomsday: Iran–The Clock is Ticking." He frequently writes on foreign policy and defense issues.
http://feedproxy.google.com/~r/breitbart/~3/Qyey8NHwnHU/