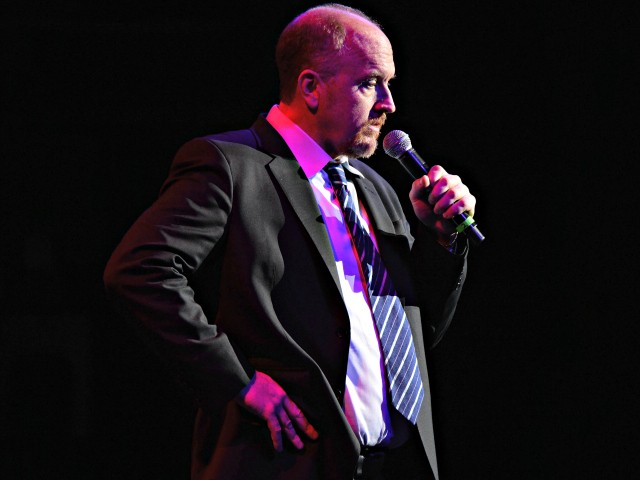 A New York comedy club that hosted a surprise return performance of disgraced comic Louis C.K. warned patrons to "swim at your own risk" and asked them to leave the club if they found the comedy uncomfortable.
The comic accused of sexual misconduct last year made a surprise appearance on Sunday night at the Comedy Cellar, reportedly to an appreciative audience. But the venue seemed to make an effort to give itself an "out" on hosting the disgraced comedian.
C.K. admitted to cases of sexual misconduct last winter, but since the controversy the Louie star has largely remained off the standup stage, save for one appearance at a Greenwich Village comedy club in August.
Louis C.K. received a standing ovation at his first surprise show and according to The New York Times, he also performed to a pleased crowd last weekend.
However, it appears that the owners of the club took measures to avoid criticism by posting a sign to warn patrons that they might be offended by the club's performers.
Outside the room, the club had posted a sign reading, "Swim at your own risk: We never know who is going to pop in."
"If an unannounced appearance is not your cup of tea," the sign continued, "you are free to leave (unobtrusively please) no questions asked, your check on the house."
The sign has been up for several weeks, according to sources.
Some patrons, though, found the disclaimer to be a tad disingenuous, as if the club's owners had no control over who they allow on stage. "It was so passive — as if they have no say over who comes in," comedy fan Andrew Friedman told the Times. "There is plenty they can do. I'm disappointed in them."
Indeed, according to the Times, a documentary filmmaker had even asked the Comedy Cellar if they intended to give Louis C.K. a chance to appear on its stage. The filmmaker, Jamie Boyle, claims that the club told her the controversial comedian was not scheduled to appear "for many months."
The club did not respond to a request for comment by Breitbart News either by phone or email before press time.
The comedian's return in August also caused a renewal of the arguments against him. A long list of comedians and members of the Hollywood fraternity were incensed that the Greenwich club allowed Louis C.K. back onstage.
In fact, even as left-wing Hollywood activist and comedian Michael Ian Black seemed to welcome C.K.'s return, Black's own fans turned against him big time letting him know in no uncertain terms that C.K.'s return was not a welcome development.
Follow Warner Todd Huston on Twitter @warnerthuston.
http://feedproxy.google.com/~r/breitbart/~3/ubXNPFlb-KI/