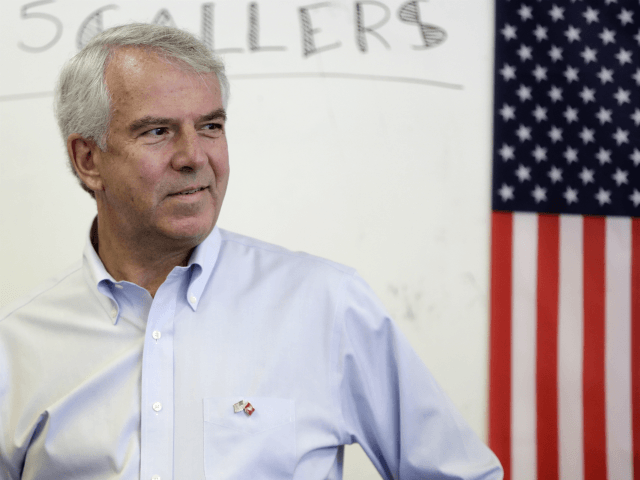 A third prominent Democrat has endorsed Bob Hugin, the GOP challenger to embattled incumbent Sen. Bob Menendez (D-NJ), in New Jersey's competitive Senate race.
Though it has been more than four decades since New Jersey voters have elected a Republican to the U.S. Senate, Menendez's highly publicized public corruption trial and defections by Democrats have led to polls that indicate Hugin is within striking distance of winning in November.
Though the Department of Justice dropped the charges against Menendez in January after a judge declared a mistrial in November, voters in New Jersey are serving on a very different kind of jury whose decision will be known when the polls close on November 6.
On Thursday, former Democrat Congressional candidate Mark Dunec announced his endorsment of Hugin, joining Teddy Price, a Democrat freeholder candidate from Toms River,  and Brick Township council member James Fozman, two other well-known Democrats who have endorsed him over the last three weeks.
"Strong bipartisan support continued to grow today behind Bob Hugin's campaign for U.S. Senate, as he received the endorsement of another prominent New Jersey Democrat, Mark Dunec of Livingston, the former 2014 Democrat candidate for Congress in the state's 11th Congressional District," the Hugin campaign announced in a statement released on Thursday.
"Bob Hugin is a refreshing antidote to the type of hyper-partisan, career politicians we have in Washington, D.C. and Trenton, N.J. He is a man of integrity, a person with a pure heart who speaks honestly and directly about what needs to be done in government.  I am inspired by his commitment to cross party lines to reach a consensus to resolve the very real problems faced by our nation and state," Dunec said in the statement.
"I am urging my fellow Democrats and all voters to consider Bob Hugin for Senate and not allow today's toxic climate of political extremism push us to blindly vote for corrupt, career politicians. We must rise above party politics and do what Bob Hugin promises to do — to do what is right for New Jersey and the American public," he added.
Dunec currently serves as a Democratic Commissioner on the Essex County Improvement Authority.
Hugin, a former pharmaceutical executive, pointed to Dunec's endorsement of his candidacy over Menendez as yet another example of Democrat disillusionment with his November opponent, Menendez.
"I'm heartened by the endorsements I am receiving from people such as Mark Dunec because I have made my campaign for U.S. Senate a broad appeal to people throughout New Jersey to put aside partisan politics and commit ourselves toward working together on what really matters — reigniting our economy, improving our health care, making New Jersey more affordable and rebuilding our infrastructure," Hugin said.
"Bob Menendez has been ineffective and self serving in the 25 years we have sent him to Washington. It's time for action. It's time to get responsible. It's time for meaningful change," he concluded.
A Quinnipiac University Poll released on August 22 showed that Mendendez's lead over Hugin had dwindled to just sixpoints, 43 percent to 37 percent.
The latest Real Clear Politics Average of Polls shows that Menendez's lead is eight points.
http://feedproxy.google.com/~r/breitbart/~3/YJ0e74Qb5xc/