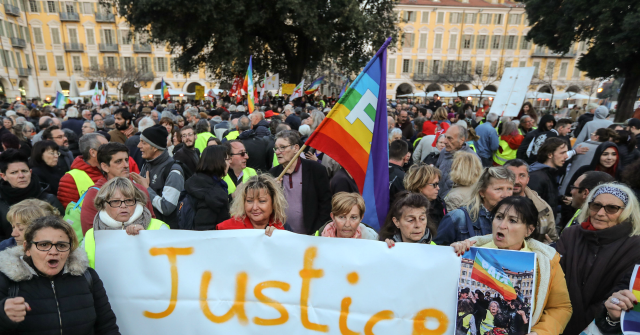 PARIS (AP) – French yellow vest protesters are rallying to support an activist injured in a confrontation with police.
The demonstrators are undeterred by protest bans or repeated injuries in 20 weeks of demonstrations. So they're marching again Saturday in Paris, Bordeaux and other cities to keep pressing President Emmanuel Macron to do more to help the working classes, redesign French politics – or step down altogether.
They're also showing solidarity with Genevieve Legay, a 73-year-old anti-globalization activist who suffered a head injury in the southern city of Nice last weekend. The Nice prosecutor said a police officer pushed her down.
"We are all Genevieve!" read an online appeal for Saturday's protests.
The main Paris protest will start to weave through the Left Bank and past the Eiffel Tower. Protests are banned around the Champs-Elysees, scene of recent rioting.
Macron Hopes Old Woman Injured in Police Charge Gains 'Wisdom', 'Fragile' People Should Avoid Prohibited Areas https://t.co/Ig7t1Vb1ij

— Breitbart London (@BreitbartLondon) March 25, 2019
Follow Breitbart London on Facebook:

 

Breitbart London
http://feedproxy.google.com/~r/breitbart/~3/UvfbxxSTHS4/