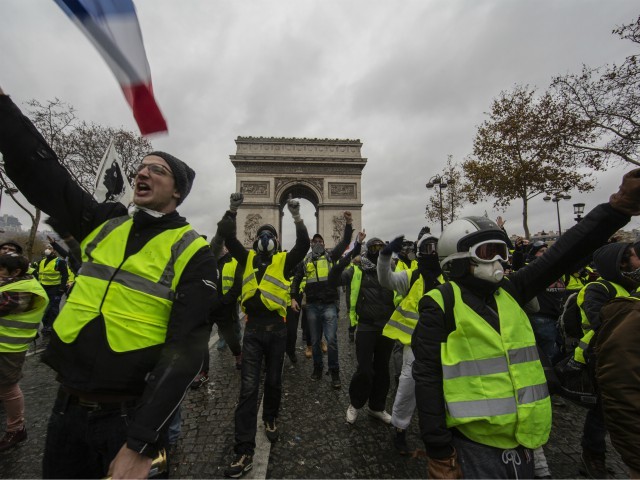 Representatives from the Gilet Jaunes protest movement have said they will not meet with French President Emmanuel Macron's government.
Two members of the Yellow Vests confirmed with Agence France-Presse Monday evening that they will not be going to the Hôtel de Matignon, the official residence of the Prime Minister of France, on Tuesday as planned.
Le Figaro reported that the group spokesman cited "security reasons."
French party representatives were supposed to meet with the Yellow Vests in attempts to resolve the ongoing protests against an increase in fuel taxes inspired by President Macron's environmental agenda.
According to sources, a ministerial meeting took place Monday evening at the Élysée Palace, the official residence of the President of France, to address the crisis.
Prime Minister Edouard Philippe, Minister of the Economy Bruno Le Maire, and the Minister of Public Accounts, Gerald Darmanin, are all said to be present.
Anti-Macron Protests Spread, Ambulance Workers Join Rebellion https://t.co/T794Gmj2nK

— Breitbart London (@BreitbartLondon) December 3, 2018
http://feedproxy.google.com/~r/breitbart/~3/xZZ0bZ6wL7Q/