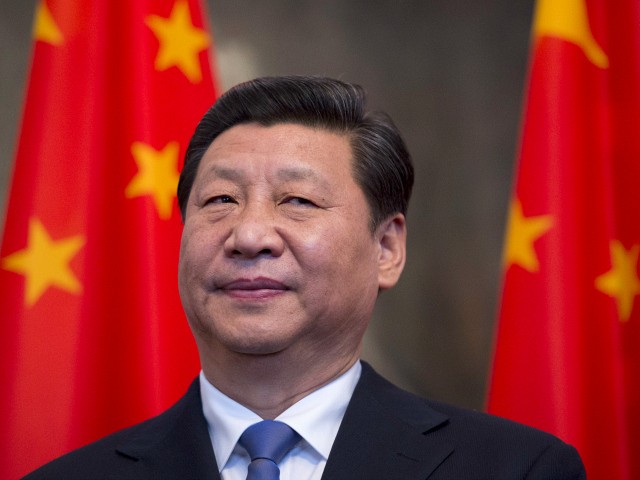 Chinese Communist Party leader Xi Jinping published an opinion piece in the Spanish newspaper ABC on Tuesday, urging the country to join Beijing's Belt and Road infrastructure takeover project just as Xi lands in Madrid.
Xi has stops scheduled in Spain, Portugal, Panama, and Argentina this week, landing in Buenos Aires for the G-20 summit scheduled to begin on November 30.
In his ABC piece, reproduced in English by the Chinese state outlet Xinhua, Xi makes the now-familiar argument he has made in similar columns to other countries that, as ancient civilizations, they have a storied history with China and should join the Belt and Road Initiative (BRI), China's plan to take over the world's major transportation hubs and shipping infrastructure.
"On the map of the world, China and Spain may seem far away. Yet, more than 2,000 years ago, the ancient Silk Road linked up the ancient Chinese capital of Chang'an with the Spanish city of Tarraco, today's Tarragona," Xi writes. "By the convoys of camels, Chinese silk and tea were carried to Spain all across the Eurasian continent."
Xi goes as far as claiming that China played a role in the literature of Spain's most acclaimed novelist, Miguel de Cervantes. "History shows that despite the great distance, our splendid cultures have brought our people together, with mutual learning, mutual enrichment and common progress defining the exchanges between the two nations."
Together, Xi proposes that Spain and China help "enhance unity among the international community, improve global governance, develop partnerships, and deepen friendship and cooperation for peace." Such a project, he contends, requires Spanish participation in the "Silk Road Economic Belt," the land-based half of the Belt and Road (in the South China Sea, where China has colonized significant chunks of foreign territory, the project is called the "Maritime Silk Road").
"Spain is now an indispensable trading partner of China in Europe, and China is Spain's largest trading partner outside the EU," Xi writes. "The China Railway Express container trains that connect China's Yiwu with Madrid offer more options for cargo transportation between the two countries, representing an early harvest of our cooperation under the Belt and Road Initiative."
"We need to synergize the Belt and Road Initiative and Spain's 'Strategic Vision for Spain in Asia' and the 'Mediterranean Corridor,' and actively explore cooperation in third markets for win-win cooperation in broader areas," Xi concludes, referring to local and regional economic projects.
Xi also proposes other exchanges with China, such as the establishment of more institutions to teach Spanish in China and Chinese government funding to raise pandas in Spain.
The editorial takes on the same tone that Xi has adopted for similar articles published around the world. Most recently, during his trip to the Philippines last week, Xi wrote a column for the Philippine Star and other major newspapers declaring that tensions in the South China Sea, where Xi has launched several projects to usurp Philippine territory, have ended conclusively and "relations have now seen a rainbow after the rain." Xi also wrote he expected Manila to play a key role in the BRI.
This summer, when traveling to the United Arab Emirates, Xi made a similar plea in that nation's the National.
"The friendship between the peoples of China and the UAE dates back to ancient times," Xi wrote. "Our ancestors started trade through the ancient Silk Road well over 2,000 years ago and forged a friendship that remains vibrant to this day."
China once boasted that, through the BRI, it would be "responsible for the majority of infrastructure projects worldwide." Xi's pleas to Spain to invest more heavily in the project follow reports that China may not have the economic capital to spend to control the entirety of the world's transport infrastructure, however. A report published this month suggested that China is running low on funding to keep up with projects that extend from Sri Lanka to the Maldives to Montenegro and Latin America. A focused campaign led by the United States to discourage developing countries from joining BRI, calling it "debt trap diplomacy," has prompted nations like Malaysia and Pakistan to limit their previous commitments to allow China to flood its economy with new workers and lavish projects.
Spain is among Europe's weaker economies, perhaps an opportunity for Xi like what he found in Greece or Montenegro. According to Spain's El Mundo newspaper, Chinese investment in Spain increased from less than ten million euros in 2012 to 1.6 billion euros in 2016, making Madrid increasingly dependent on Beijing.
Xi will also visit Portugal, another European Union country that has struggled financially, before heading to Panama and Argentina. Xi's visit to Latin America will likely feature more arguments in favor of BRI as well as diplomacy intended to strengthen China's position in the region following the election of Jair Bolsonaro in Brazil, who campaigned on distancing Brazil from Chinese investment.
Xi is expected to meet with President Donald Trump at the G-20 summit in Argentina.
Follow Frances Martel on Facebook and Twitter.
http://feedproxy.google.com/~r/breitbart/~3/4TUhxFT9pN8/