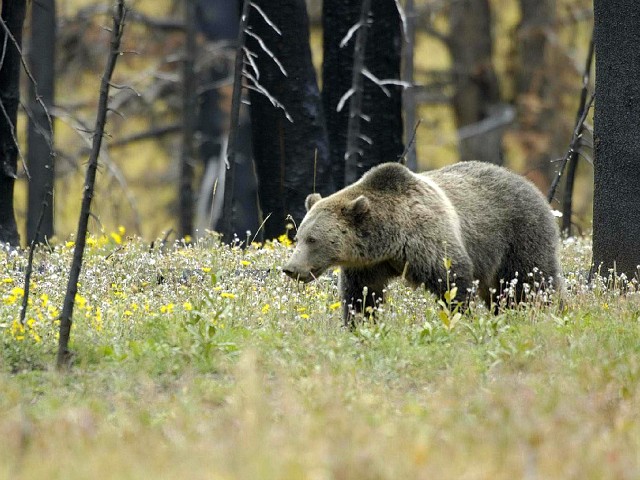 Hunting guide Mark Uptain and his client Corey Chubon were attacked by a mother grizzly and her cub on Friday, killing Uptain and wounding Chubon before his escape.
Uptain and Chubon were field dressing an elk they had shot the day before when two bears "aggressively charged" them, completely ignoring the corpse, according to a statement by Teton County officials.
Both bears were later caught and euthanized. In a statement on Sunday, Wyoming Game and Fish Department spokeswoman Rebekah Fitzgerald said, "all available evidence indicates that these two bears were the bears involved in the Terrace Mountain attack."
The attack is especially notable because it comes in close proximity to an October 1 grizzly hunt postponed by a federal judge. "I can only imagine how horrific this was," Sy Gilliland, a hunting guide and spokesman for grizzly hunters in the area, told USA Today. "You've got a bear population that's basically un-hunted, is an apex predator, and has no fear of humans."
Others remain in staunch opposition to the hunts. "We do not want to diminish the loss of a community member, or the suffering of his family. However, construing the incident as a reason to justify the trophy hunting of grizzlies makes little sense," said Melissa Thomasma of Wyoming Wildlife Advocates.
"Killing more bears will not prevent other bear-hunter conflicts, but it may irrevocably jeopardize the health of the grizzly population around Yellowstone," she concluded. Conservation continues to be an issue: The remaining population of grizzlies has deteriorated to about 1,700 in the United States, with a separate population of about 30,000 in Alaska.
Mark Uptain is survived by his wife Sarah and five children. In order to help take up the burden left by his passing, family friend Rauli Perry launched a GoFundMe campaign on their behalf. "I have been best friends with Sarah since the 2nd grade, we have done a lot of life together," Perry wrote. "I know I can't take away the pain, but if we can help support Sarah to be able to focus on the kids and not worry about finances."
http://feedproxy.google.com/~r/breitbart/~3/n11qvMGflMc/