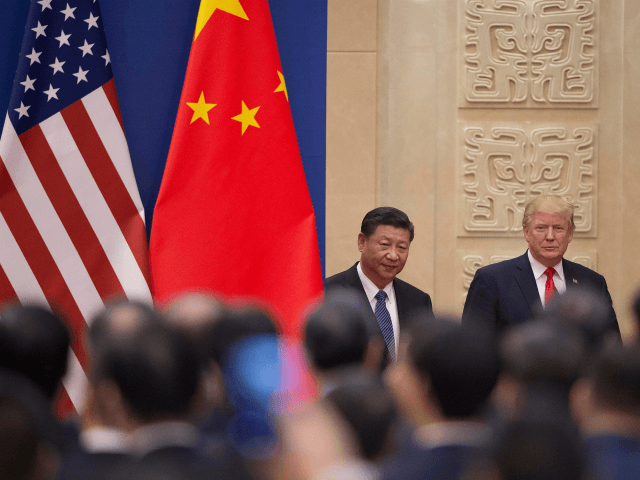 President Donald Trump is making plans to implement additional tariffs of $200 billion on Chinese imports his administration has been considering for months, according to a new report in the Wall Street Journal.
Last month the U.S. Trade Representative's office held over a week of hearings with leaders in many industries on the potential additional tariffs.
Tariffs are expected to be 10 percent, not the 25 percent earlier suggested, according to Saturday's WSJ report.
A U.S. team of Trump administration officials led by Treasury Secretary Steve Mnuchin still plans to hold meetings with a Chinese delegation led by Vice Premier Liu He September 27-28 in Washington, DC.
President Trump has already levied additional tariffs on $50 billion in Chinese goods amidst trade talk troubles. He has warned of additional waves of tariffs on up to $500 billion in Chinese goods. He told reporters aboard Air Force One in July, "Then as you know we have 200 billion in abeyance and then after the 200 billion we have 300 billion in abeyance."
China retaliated against the U.S. tariffs with their own set that appeared linked to U.S. industries where President Trump has found support. China has already put together a package of potential additional tariffs on U.S. goods of $60 billion if President Trump proceeds with additional U.S. tariffs on China, according to the Associated Press.
Top trade officials from both China and the U.S. had been holding trade meetings in each Beijing and Washington, DC before those talks broke down. More recently lower level trade officials from each country have met in Washington, DC with little news of any progress. The planned meeting between delegations headed by Mnuchin and Liu set for Washington, DC this month mark a return to meetings between high level officials after the stall in talks.
Trump and his administration have made clear that the U.S. is looking for China to halt "unfair" trading practices, theft of U.S. intellectual property, and a reduction in the U.S. trade deficit with China.
Michelle Moons is a White House Correspondent for Breitbart News — follow on Twitter @MichelleDiana and Facebook
http://feedproxy.google.com/~r/breitbart/~3/MKwb_4ej4Kc/