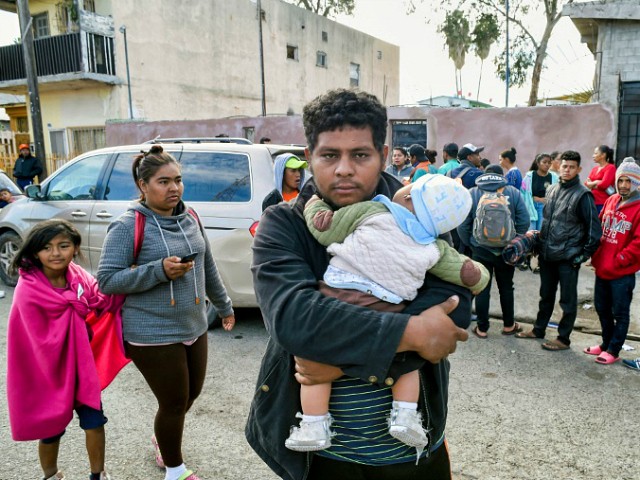 The Wall Street Journal (WSJ) has admitted that farmers and manual labors in Central America are hacking U.S. asylum laws by bringing children to trigger the catch-and-release loopholes.
The November 16 article is headlined, "Migrants Adopt Tactic for U.S. Entry: Come as a Family," and it reports how :
Doris Paz, a 29-year-old mother of three, said that is how her sister-in-law reached San Antonio. It is how a neighbor recently crossed into the U.S. with two children. It is why a cousin grabbed her children and joined a caravan of migrants that left Honduras last month. And it is why Ms. Paz joined the same caravan with her 6-year-old son. "They say that bringing your child is your ticket in," said Ms. Paz.
The migrants know that current laws and court-imposed settlements force border officials to release asylum-seekers with children in just 20 days. This early release allows the migrants to get blue-collar jobs — and to pay their smuggling debts — until they are caught and sent home.
The economic migrants are also splitting their families to maximize their chance of getting through the border, amid progressives' complaints that President Donald Trump's border policies are "ripping" children from their mothers' arms.
The progressives' media-magnified complaints about "family separation" forced Trump to drop his zero-tolerance policy for migrants with children. The progressive win prompted at least one migrant to separate herself from her own family, according to the Wall Street Journal:
That is how Cintia, a 29-year-old single mother of three from the city of Choloma, Honduras, reached the U.S. last month. She decided to leave Honduras, where about two-thirds of the population lives in poverty, after losing her job at a cleaning company during the political unrest sparked by last year's contested presidential election. Afterward, she said, she couldn't find a job, and became scared to leave her home after being the victim of street robberies.

A friend in Kentucky offered to help by paying a smuggler a $8,000 fee. She knew that she would have a better chance of avoiding deportation if she traveled with children, but couldn't afford to pay for all three; she decided to take her youngest daughter. When the White House ended its family separation policy in June, she decided it was a good time to make the trip.

After crossing into Brownsville, Texas, Cintia and her daughter were held for one night and released, she said. "Honestly, it was a quick process," she said by phone from Kentucky, where she was looking for work. "My plan is to get a job and be able to help my kids and mom."
In November, the Washington Post also admitted that the U.S. asylum rules encourage migrants to bring some of their children up to the border:
The controversy generated by the policy and its abrupt rollback six weeks later handed smuggling guides across Central America a potent sales pitch. They now tell potential customers the Americans do not jail parents who bring children — and to hurry up before they might start doing so again.

…

Migrants have adapted … As asylum officers and immigration judges reject more [asylum] claims [by single adults], the number of single adults who arrive claiming fear of persecution is dropping. The fastest-growing portion comprises parents coming with children, preventing their long-term detention and significantly reducing the likelihood they will be deported.
The New York Times (NYT) has downplayed the asylum fraud, even though its reporters have written on the reality. NYT reported June 22:
"This is the reason I brought a minor with me," said Guillermo T., 57, a construction worker who recently arrived in Arizona. Facing unemployment at home in Guatemala, he decided to head north; he had been told that bringing his 16-year-old daughter would assure passage. He asked that only his first named be used to avoid consequences with his immigration case.

"She was my passport," he said of his daughter.
#CBP #USBP Twenty-eight Guatemalan and four Honduran family groups, not part of the migrant caravans, surrender to Yuma Sector agents Wednesday after crossing the Colorado River vehicle barriers #NationalSecurity #SouthwestBorder pic.twitter.com/5vztseq1Ov

— CBP Arizona (@CBPArizona) November 16, 2018
The WSJ, like the Post and the New York Times, however, ignores the profitable labor-trafficking aspect of the Central American migration into the U.S. jobs market.
Cartel-affiliated coyotes delivered many of the 65,218 asylum-seeking migrants to the U.S. border in fiscal 2018. That huge number — plus the variety of legal loopholes — ensured that many of the cartels' migrants were quickly released into the U.S. jobs market where they can work to pay off their smuggling contracts with the cartel-affiliated coyotes.
The migrants are released because Congress does not fund enough beds to detain all the migrants and their children. In turn, the immigration courts are backlogged for two years, so migrants can work illegally and legally until their court date — and until they are found and deported.
President Trump is trying to break the smuggling business by ending the catch-and-release policies that allow migrants to get jobs. If the migrants are not released, they cannot get U.S. jobs to pay their smuggling debts to the cartels or fund the cartels' transport of their spouses and children to the United States.
Since 2016, cartel-affiliated coyotes have also used the nation's lax asylum laws to deliver more than 110,000 children and youths from Central America to parents, relatives, or employers in the United States. The government-aided business has been hidden by media and by Democrats who portray the expensively smuggled young migrants as "Unaccompanied Alien Children."
Many business-first Republicans and Democrats look away when employers tacitly use the cartel-affiliated coyotes as labor brokers. In September 2018, the Department of Justice announced a guilty plea by a labor broker who helped to smuggle "unaccompanied" minors into the U.S. labor market. The U.S. employer paid $6 million to the labor-broker, the department reported:
Pablo Duran Ramirez, 50, pleaded guilty today in U.S. District Court in Cleveland, Ohio, to encouraging the illegal entry of Guatemalan nationals, including unaccompanied minors, into the United States for financial gain … Duran Ramirez is the fourth defendant to plead guilty in connection with a labor trafficking scheme that forced Guatemalan minors to work at egg farms in central Ohio.

According to the defendant's plea agreement and admissions in court, the defendant, through his company, Haba Corporate Services, contracted to provide labor to Trillium Farms, knowing that the workers were unlawfully present in the United States. He further admitted to knowing that some of the workers were unaccompanied minors who had been coerced or threatened to enter the United States and then housed in an isolated trailer park in Marion, Ohio. In 2013 and 2014, Trillim Farms paid the defendant's company approximately $6 million for its labor services.
The Honduran caravan's economic migrants are trying to stay outside the cartels' trafficking business as they seek jobs in the United States, often via their relatives. The Dallas News reported one example on November 10:
[Edwin Edgardo] Hernandez has grand plans of reuniting with his brother in Dallas. But, for now, he said Atlanta beckons with a bigger sense of urgency: Jobs. Weeks ago, his former boss sent word to his community via recruiters that construction jobs await him and others to build stores like Wal-Marts and Home Depots — the kind of construction work he once did here in the U.S., the very work that once helped him earn enough money to build a home back in Honduras.

"I'm told the economy is very good again," he said. "I know from past experience that when there are jobs there will be a way to get in. It's about resolve, and God, not Trump."
Washington's economic policy of using migration to boost economic growth shifts wealth from young people towards older people by flooding the market with cheap white-collar and blue-collar foreign labor. That flood of outside labor spikes profits and Wall Street values by cutting salaries for manual and skilled labor offered by blue-collar and white-collar employees.
The policy also drives up real estate prices, widens wealth-gaps, reduces high-tech investment, increases state and local tax burdens, hurts kids' schools and college education, pushes Americans away from high-tech careers, and sidelines at least five million marginalized Americans and their families, including many who are now struggling with opioid addictions.
Immigration also pulls investment and wealth away from heartland states because coastal investors can more easily hire and supervise the large immigrant populations living in the coastal states.
http://feedproxy.google.com/~r/breitbart/~3/pilZhjpedl4/