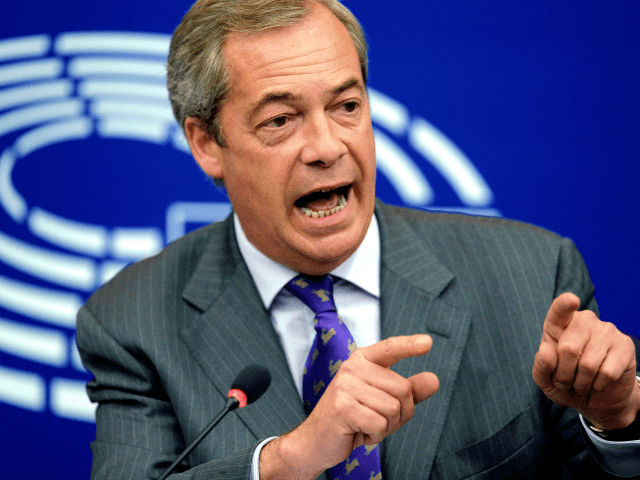 Chief Brexiteer Nigel Farage has demanded that German Chancellor Angela Merkel apologise for her open borders policy that led to the EU's migrant crisis, calling it "the worst decision we've seen in post-war politics in Europe."
The German Chancellor had just addressed the Strasbourg chamber of MEPs and Eurocrats Tuesday, demanding a "real, true" European Union army, when Mr Farage called her out for her migrant policy.
"Your 'we can cope' led to a huge migrant tide, indeed a stampede, that came across the Mediterranean Sea. Young men coming from very different cultures who were not going to integrate… none of whom would have qualified as genuine refugees."
Angela Merkel must admit she was wrong and apologise to Europe for the huge damage her migration policy has caused. pic.twitter.com/LSPVYBG7I9

— Nigel Farage (@Nigel_Farage) November 13, 2018
"Your political decision to open up the doors unconditionally is the worst decision we've seen in post-war politics in Europe," the former UKIP leader added.
"Is it not time for you at least to admit that you were wrong? Is it not time for you to say to German communities and many others, 'I'm sorry for what I've done to you, and the problems I've inflicted upon you for many decades to come'?"
Mr Farage also thanked Mrs Merkel for her disastrous policies helping to make it "over the line for Brexit."
"I think in many ways, we looked at in the referendum and said we don't want to be part of an increasingly German-dominated European Union and we certainly don't want to pay the price for Mrs Merkel's errors," he said.
Condemning European leaders who recently called for a European empire, a militarised EU, who rewrite history, and who "launched a new Cold War against the United States of America," he said Brexit was now a "necessity."
"I think that 100 years on from the Armistice, we should be genuinely worried.
"The European Project was set up to stop German domination; what you've seen today is a naked takeover bid," he added.
Merkel Demands 'Real, True EU Army'… Days After Calling for 'UN Values' Globalist World Peace https://t.co/hAiDE6BDYb

— Breitbart London (@BreitbartLondon) November 14, 2018
http://feedproxy.google.com/~r/breitbart/~3/o9Xw_nTuvwA/