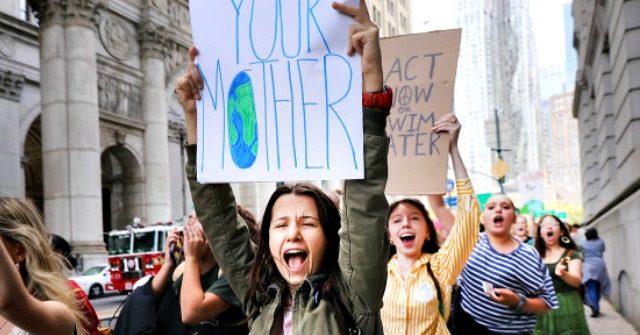 The World Meteorological Organization (WMO) issued a warning of almost Biblical proportions Sunday, noting a planet wracked by "climate change trends" that continued through 2022, driving food insecurity and mass migration along with a host of other maladies for mankind from droughts and floods to famine and heatwaves.
The WMO says climate change contributed to mass human displacement in 2022 and exacerbated conditions for the 95 million people throughout the world, its State of the Global Climate 2022 report lays out.
"While greenhouse gas emissions continue to rise and the climate continues to change, populations worldwide continue to be gravely impacted by extreme weather and climate events," the WMO said in a summary of its report.
The warning, based on what many – but not all – scientists now declare is uncontested evidence, has long been part of the international narrative telling humans to repent and change their ways to repair the climate.
WATCH: Joe Biden Warns the World Cause of Climate Change "No Longer Subject to Debate"
The White House / YouTube
WMO Secretary-General Petteri Taalas said, "in 2022, continuous drought in East Africa, record-breaking rainfall in Pakistan and record-breaking heatwaves in China and Europe affected tens of millions, drove food insecurity, boosted mass migration and cost billions of dollars in loss and damage."
While Taalas warned of climate-related humanitarian crises, he emphasized successful mitigation strategies.
"Collaboration amongst U.N. agencies has proven to be very effective in addressing humanitarian impacts induced by extreme weather and climate events, especially in reducing associated mortality and economic losses," said Taalas, according to UPI.
The WMO further declared climate change is impacting natural cycles such as the blossoming of plants and the migration of birds with an overall threat to humanity as previously espoused by everyone one from Hollywood celebrities to politicians of all types and persuasions.
Climate Change hoaxers of the world unite! https://t.co/Uf4MspfV6t

— Breitbart News (@BreitbartNews) December 1, 2019
According to the report, the years between 2015 and 2022 were the eight hottest recorded, even though the El Nino climate system caused cooling.
Throughout 2022, 2.3 billion reportedly people faced food insecurity and 924 million faced severe food insecurity, the report concluded.
Follow Simon Kent on Twitter:

Follow @SunSimonKent

or e-mail to: skent@breitbart.com



https://www.breitbart.com/environment/2023/04/23/world-meteorological-organization-warns-climate-eve-of-destruction-is-here/