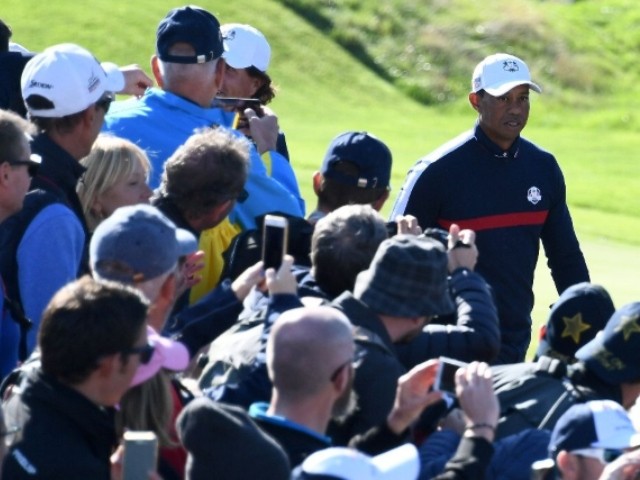 "My overall Ryder Cup record, not having won as a player since 1999 is something that hopefully we can change.
"We haven't won as a US squad here in 25 years on foreign soil, so hopefully that will change this week, as well."
The 42-year-old, at Le Golf National for the first time since in 1994 as an amateur, unsurprisingly looked in an upbeat mood playing alongside possible partner Bryson DeChambeau, old adversary Phil Mickelson and Patrick Reed in practice on Tuesday.
Woods looked to have carried his strong play from tee to green from East Lake to Paris, as he and his teammates took their time trying to come to grips with the vagaries of the undulating areas around the Albatros greens.
A different reception will surely face him when the competition starts, though, after he was greeted warmly on Tuesday by the French spectators, many of whom would never have seen him play before.
A tee shot on the dangerous par-three second hole to around four feet drew gasps from the crowd surrounding the green, as did a sumptuous pitch to the third.
– Ryder Cup 'nerves' –
Woods said that he couldn't wait to experience the atmosphere of a Ryder Cup as a player for the first time since 2012.
"It's going to be fun. It's going to be an awesome environment," he added.
"There's a lot of nerves. It's excitement. I mean, it really is.
"It's something we don't get to experience in that regard because basically it's the final round of a tournament on the very first hole and every match you tee it up.
"It's a different atmosphere and one that we absolutely love."
American captain Jim Furyk has long been expected to pair Woods with the more methodical DeChambeau, and that looks increasingly likely after the two spent much of Tuesday morning locked in conversation on the fairways.
Woods has appeared to intimidate partners in the past, with major champions Mickelson, Mark O'Meara and Furyk among those to struggle alongside him.
But he and DeChambeau should, on paper at least, form a formidable foursomes combination on the tight, tricky course where placement will be more important than brute power.
"It would be awesome to play with him," said DeChambeau. "Is it going to happen? We're still working on it.
"We're still trying to figure out who is going to best fit with each other, not me personally but for everyone that's going out that day."
And ahead of a Presidents Cup captaincy next year, Woods will be desperate to finally prove he can be a successful team man.
http://feedproxy.google.com/~r/breitbart/~3/uyX3NUGSpoQ/