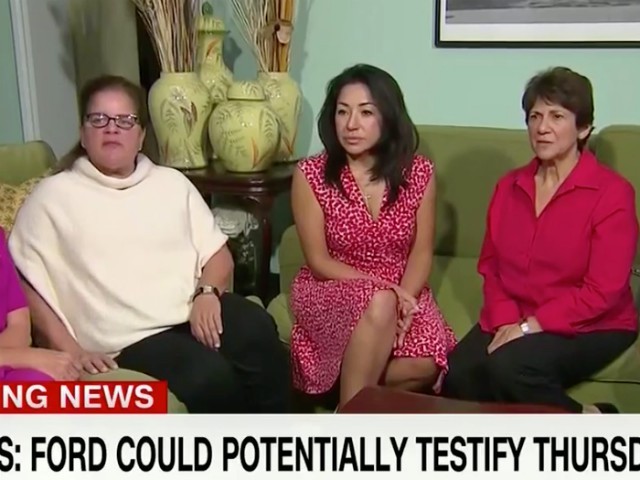 CNN interviewed a group of Republican women who vociferously defended Supreme Court associate justice nominee Brett Kavanaugh during Thursday's broadcast of "Anderson Cooper 360" Thursday night.
"Show of hands. How many of you believe Judge Kavanaugh when he says this didn't happen?" CNN reporter Randi Kaye asked a group of women.
All of the women answered that they believed him.
"Because one woman made an allegation–sorry, I don't buy it," a woman named Lourdes Castillo de la Pena said in part.
"In the grand scheme of things, my goodness, there was no intercourse. There was maybe a touch. Can we–really? 36 years later? She's still stuck on that? Had it happened," Irina Villarino said.
"I mean, we're talking about a 15-year-old girl, which I respect. You know, I'm a woman. I respect. And we're talking about a 17-year-old boy, in high school, with testosterone running high. Tell me what boy hasn't done this in high school. Please, I would like to know," Gina Sosa said.
"Why would she come forward if this wasn't true? Because it has basically destroyed her family. She's had to move. She's gone undercover. She's gotten death threats. So if she's lying, why come forward?" CNN's Kaye asked.
"She's also destroying his life, his wife's life, his children's lives. His career. I mean, why didn't she come out sooner if she's telling the truth?" Villarino answered.
"Why didn't she come out when he was going into the Bush White House? Why didn't she come out–he's been a federal judge for over a decade," Angie Vazquez wondered.
Kaye compared the allegations against Kavanaugh to allegations of sexual harassment against Clarence Thomas.
"This is not the same. This is a high school kid. I mean, it's not Anita Hill's story," Lourdes Castillo de la Pena said.
"As women, though, do you have some sympathy for her for what she's going through?" CNN's Kaye also asked.
"No, I have no sympathy. And perhaps maybe at that moment she liked him, and maybe he didn't pay attention to her afterward, and he went out with another girl, and she got bitter or whatever the situation is. They're kids." Castillo de la Pena answered.
"If it is true, would it be okay with you if he became a justice on the Supreme Court?" Kaye finally asked.
"As long as that's an isolated incident, yes," Lourdes Castillo de la Pena answered.
"He was 17. He was not even an adult, and we all make mistakes at 17. I believe in a second chance" Sosa said.
"I'd be more than okay with him being Supreme Court judge," Villarino said.
"If the person made a mistake and they move on, and they have been a good human being, you know, who are we to judge?" Castillo de la Pena added.
Follow Justin Caruso on Twitter 
http://feedproxy.google.com/~r/breitbart/~3/UoE8D_qugRU/