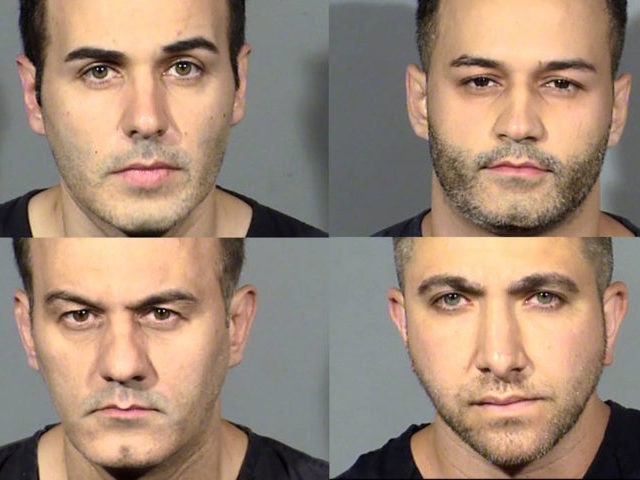 Prosecutors in Las Vegas dropped all charges against four California dentists when video evidence did not back up a woman's claim that the men raped her.
Authorities initially charged Ali Badkoobehi, Poria Edalat, Saman Edalat, and Sina Edalat with rape after a woman claimed the four men forced themselves upon her in a room at the Wynn hotel in July, according to the Las Vegas Review-Journal.
The accuser told police that the men held her down in a chair and took turns raping her and that she could not resist because she was too drunk. The men were arrested early in August, booked, but then released as the case moved forward.
Now, the entire case has been dismissed after prosecutors dropped the charges based on video evidence that did not align with the claims of the purported victim, the paper reported.
"After review of the facts of the case, it was clear that the allegations were completely fabricated," lawyers for the accused men said in a statement released to the media. "The evidence confirmed the men's innocence, and the state has cleared them of all charges."
The case was so undermined that none of the four accused men felt it necessary to appear in court to hear the dismissal of the charges.
"We are so grateful to the justice system for recognizing that we were the victims in this case," the men's statement said.
The statement also came with a timely warning about the #MeToo movement: "We knew when the facts came out that the vicious allegations would be exposed as lies and our good names would be cleared. At this sensitive moment in our history, we believe that women should be respected and heard and believed. But as this case shows, it is also important to keep a critical eye on those willing to use the movement for their own selfish motives and remember that innocent until proven guilty is one of our country's bedrock principles."
Follow Warner Todd Huston on Twitter @warnerthuston.
http://feedproxy.google.com/~r/breitbart/~3/wQdSsyVlt3c/