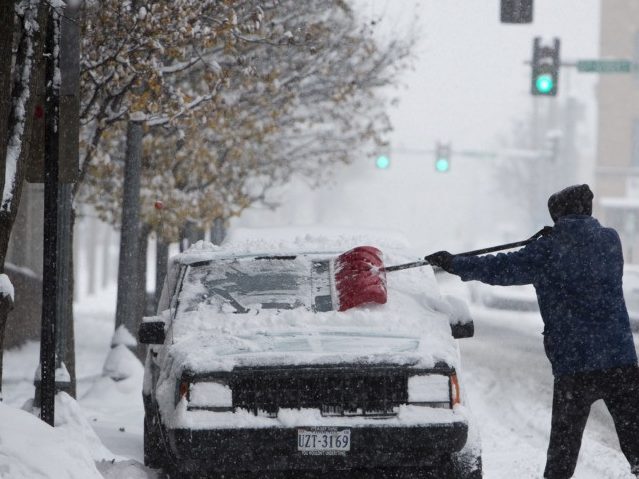 A massive winter storm containing rain, sleet, and snow is sweeping the southeastern United States, leaving more than 300,000 without power and 1,500 flights canceled.
Governors in several states—including Virginia, North Carolina, and Oklahoma—declared a state of emergency before winter storm Diego hit to allow use of state funding and resources to combat the increasing threat of icy roads, heavy snowfalls, and power outages.
The National Weather Service (NWS) tweeted Sunday morning that heavy snow would fall across southern Virginia and the western and central parts of North Carolina and freezing rain would "develop" over South Carolina:
Snow, sleet, and freezing rain will continue this morning. Heavy snow should be most common across parts of western/central NC into southern VA.
Freezing rain may develop over portions of northern SC into southern/central NC.

— NWS (@NWS) December 9, 2018
The storm, which is expected to last until Monday, has wreaked havoc upon commuters traveling on the road and in the air, with many people reporting hazardous driving conditions and canceled flights:
Cue: "Ride of the Valkyries" #Snowmageddon2018 #Raleigh pic.twitter.com/7Mpa0XSdpP

— Patton Oswalt (@pattonoswalt) December 9, 2018
Jesus take the wheel. pic.twitter.com/3jRiZobCll

— Courtney Hoekstra (@cshillz) December 9, 2018
Forecasters predict that North Carolina could receive up to 12 inches of snow in the more mountainous areas of the state, and coastal areas of the southeast could see flooding.
The city of Lubbock, Texas, received more than ten inches of snowfall, one of the highest recorded totals on record for the area.
State officials have warned residents to stay off the roads and put together emergency kits to weather the storm,
"Virginians should take all necessary precautions to ensure they are prepared for winter weather storm impacts," said Virginia Gov. Ralph Northam.
"This weekend isn't the time to head out to see the winter wonderland. Stay safe where you are. Getting out on dangerous roads could put your life at risk," North Carolina Gov. Roy Cooper said, urging residents to be vigilant about the changing weather conditions.
Airlines and power companies are also on alert as the storm develops throughout the country. Power companies are forecasting massive storm-related power outages, and airlines have preemptively canceled flights.
The largest electric company in North Carolina, Duke Energy, predicted the state would have more than 500,000 power outages, and American Airlines announced that it canceled nearly 1,000 flights scheduled for Sunday ahead of the storm.
http://feedproxy.google.com/~r/breitbart/~3/osW6oCF7s3I/