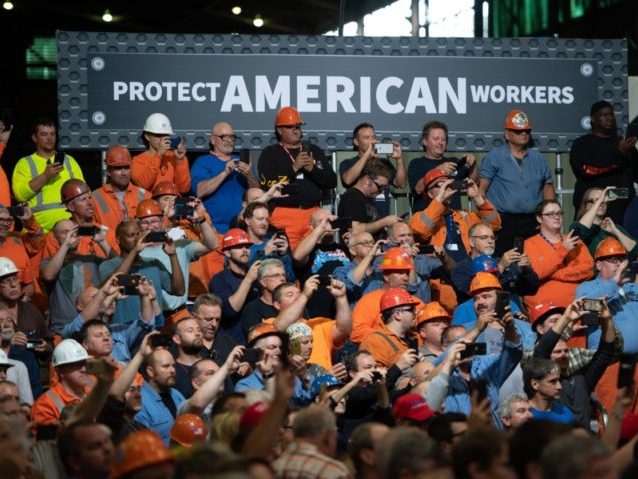 The strength of the American labor market is pushing up wages faster than consumer prices, the Federal Reserve's latest "Beige Book" summary of the state of business across the central bank's 12 regional districts showed Wednesday.
The Fed said that most of its districts reported that "wage growth tended to the higher side of a modest to moderate pace. In addition to raising wages, most Districts noted examples of firms enhancing nonwage benefits, including health benefits, profit-sharing, bonuses, and paid vacation days."
Price increases, however, were merely "modest" in most of the country, with the notable exception of San Francisco. And much of the price pressure has yet to hit the consumer level, the Fed said. Instead, it is showing up in the rising costs of materials and labor.
"Nearly all reported that input costs rose faster than final goods prices. Reports of tariff-induced cost increases have spread more broadly from manufacturers and contractors to retailers and restaurants," the Fed said.
Despite the broader spread of reported tariff cost increases, there is scant evidence that businesses are successfully passing on the tariffs to their customers. And the number of mentions of tariffs in the report actually fell to 39, down from 51 mentions in the prior report.
The Boston Fed: "Increases in selling and input prices were reported to be modest."
The New York Fed reports that "escalation in firms' input prices have continued, but wages and selling prices have increased more moderately."
Philadelphia: "Price increases remained modest."
Cleveland: "Contacts noted that tariffs were lifting prices further down the supply chain. Selling prices rose with less intensity than they did for input costs."
Richmond: "Price growth increased slightly but remained moderate, over-all. Manufacturing and services firms saw a sharp in-crease in input prices, which were attributed to tariffs, shipping costs, and some higher business-to-business and recruitment costs."
Chicago: "Wages and prices rose modestly."
Minneapolis: "Price growth was generally modest, though input prices saw more pressure."
Dallas: "Price pressures eased but remained elevated in part due to the tariffs."
The San Francisco Fed reported prices rising "moderately," which more than "modestly" but hardly a signal of dangerous inflation. And the moderate price growth is matched by moderate economic growth.
And the steel and aluminum tariffs do not appear to be hurting domestic manufacturers very much–although they continue to elicit complaints.
"Tariffs remained a concern for manufacturers, but a majority of Districts continued to report moderate growth in the sector," the Fed said.
Keep in mind, many manufacturers were benefitting from artificially low metals prices because of overproduction out of China. So even though sales are rising and manufacturing continues to expand, many owners and managers may pine for the lower input costs that prevailed when steel was dumped on the U.S. market and labor was more readily available. T
The overall picture of the economy remains very similar to what the Fed reported in its October Beige Book. "Most of the twelve Federal Reserve Districts reported that their economies expanded at a modest or moderate pace from mid-October through late November," the Fed said.
There were pockets of weakness. Dallas and Philadelphia noted slower growth compared with October. The Dallas slowdown is likely related to the decline in oil prices. The St. Louis and Kansas City Fed's note just slight growth.
The recent market sell-off will send many economy-watchers searching the Beige Book for signs of an impending economic slump. They'll find little to back up the view that the economy is headed toward a recession in the months ahead.
"Most Districts reported that firms remained positive; however, optimism has waned in some as contacts cited increased uncertainty from impacts of tariffs, rising interest rates, and labor market constraints," is about the most dire thing contained in the report.
http://feedproxy.google.com/~r/breitbart/~3/KXeL77XlgNM/