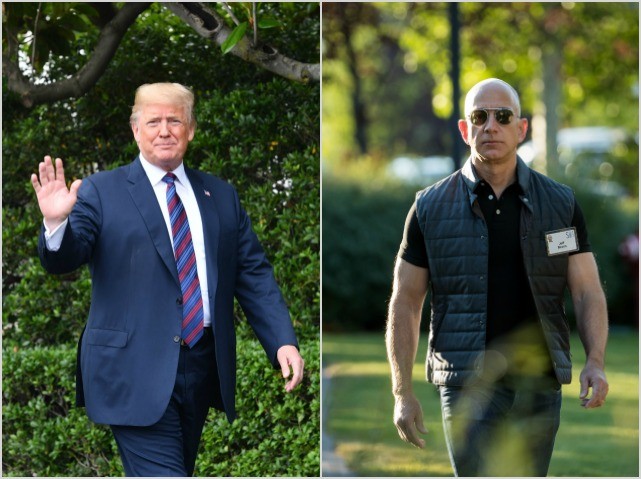 The decision by Amazon's Jeff Bezos to raise starting wages to $15 per hour for warehouse workers may trigger a long-awaited corporate bidding war for workers, say economic analysts.
But analysts are refusing to give credit to President Donald Trump, whose low-immigration "Hire American" policy is forcing fast-growing companies to recruit extra workers by offering wage raises
The hiring competition will be fierce over Christmas, in part, because Amazon is hoping to hire 100,000 $15-per-hour seasonal workers to complement its 215,000-strong workforce of $15-per-hour warehouse workers. Wal-Mart, UPS, Sears, Target and many other companies need at least 500,000 extra workers for their Christmas seasons and will face great pressure to bid up wages for seasonal and full-time workers.
"Let the bidding up begin: Amazon's wage increase pressures other employers to pay workers more," said the Wall Street Journal.
"Welcome to the world of full employment," stock-advisor Jim Cramer told employers. "If you want employees, you're going to have to pay."
"Amazon's wage hike has blown a gaping hole in the low-wage, low-productivity equilibrium that has bedeviled the US for the past 3 decades," said Michael Mandel at the left-wing Progressive Policy Institute. "E-commerce fulfillment centers are using technology and big data to boost productivity in the distribution sector … Companies are going to be forced to invest in their workers and in new technology, or be squeezed by rising wages," he added.
"Once the labor market hits full employment — an all-too-rare occurrence in recent decades — even employers of the magnitude of Amazon have to kick up pay to hire and keep the workers they need," said Jared Bernstein, an economic advisor to former Vice President Joe Biden.
"Not only does this make a difference in the lives of hundreds of thousands of Amazon employees, it also sends a message to the fast food industry, the airline industry and the retail industry in general that the time is now to begin paying workers a living wage," said a statement by Democratic Sen. Bernie Sanders.
Leftists, however, are loath to credit Trump, who has swatted down the numerous demands for more immigrant workers made by the loose alliance of GOP-aligned business groups and Democratic-aligned pro-migration groups.
For example, Bezos gave credit to the left-wing groups who share his repeated calls for higher immigration. "We listened to our critics, thought hard about what we wanted to do and decided we want to lead," he said.
Despite Bezos's low-wage record, Sanders credited his corporatist ally, telling the Post:
"Today I want to give credit where credit is due, and that is that Mr. Bezos and Amazon have done the right thing," Sanders said in an interview Tuesday. "This is a significant step forward for many thousands of Amazon employees."
Bezos's Democratic deputies returned the favor, promising that he would support the Democrats' demand for a $15 minimum wage, regardless of how many migrants are added to the economy. "We will be working to gain Congressional support for an increase in the federal minimum wage," said Jay Carney, Obama's press secretary and Bezos' Senior Vice President of Global Corporate Affairs. "We intend to advocate for a minimum wage increase that will have a profound impact on the lives of tens of millions of people and families across this country."
Mandel praised Amazon as a progressive company, even though its ruthless, high-tech process has pulled a huge amount of money and power into Bezos' hands.
I'd argue that Amazon is already a progressive corporation, in the truest sense of the word, boosting pay and creating tech enabled jobs for less educated workers. For local policy, I'm more concerned with local zoning for distributed manufacturing
But there would be no worker shortage if Trump was not elected President in 2016.
Before Trump's tight economy, President Barack Obama and George W. Bush grew the economy and Wall Street with by flooding the labor market with foreign workers.
The two Presidents did little to curb illegal immigration and rarely raided employers. They raised the inflow of legal immigrants and refugees, and they boosted the resident population of white-collar visa-workers above 1.2 million. Obama encouraged a massive migration of Central Americans, and his judges hid more than 300,000 deportation cases. The gusher of extra workers under Bush and Obama expanded the economy, raised federal revenues, boosted the Chamber of Commerce, and spiked the stock market — but left Americans wages flat or declining.
For example, data provided by the Bureau of Labor Statistics show that that the nation's workforce of new and experienced warehouse workers got $15.13 per hour in January 2008 and $16.01 in January 2017, not counting inflation.
Since his election, Trump has rejected elite demands that he allow unlimited white-collar immigration, that he grant work permits to the spouses of H-1B visa workers, give amnesty to more than 2 million 'DACA' illegals, and continue President Barack Obama's supply of refugee-workers to meat-packers and dairy farmers.
Trump has also rejected congressional pressure to triple the H-2B visa-worker program, has reduced illegal immigrants, tightened workplace enforcement, and is battling the wave of migrants who claim asylum to get jobs, and the Obama-facilitated inflow of "unaccompanied" youths.
In January, for example, Trump rejected a call by Bezos and other CEOs to amnesty roughly 2 million 'DACA' illegals:
We write to urge Congress to act immediately and pass a permanent bipartisan legislative solution to enable Dreamers who are currently living, working, and contributing to our communities to continue doing so. The imminent termination of the DACA program is creating an impending crisis for workforces across the country.
Because of Trump, that "impending crisis" is now a wage increase for perhaps 300,000 Americans.
In Trump's tight-labor economy, warehouse wages quickly jumped by 10 percent to $17.60 in June 2018 — and will rise further once Amazon's big wage-increase is included in the data. The Wall Street Journal reported Oct. 2:
Radial Inc., a Pennsylvania company that operates distribution centers for brands such as Express and Abercrombie & Fitch , will increase wages and bonuses by 10% to 15% this year from last to attract 20,000 seasonal workers, said Sean McCartney, executive vice president for operations services. The company turned down some business this year because it was worried about staffing levels. It is also investing in conveyor belts and robots to reduce the need for human workers.
Wages are rising for blue-collar workers — up 4.6 percent in the 12 months to July — but salaries remain stalled for most white-collar workers. Overall, wages and salaries are barely growing above the rate of inflation.
Meanwhile, CEO and investors have desperately opposed the pressure for wage raises.
They have avoided wages raise by scouring the country seeking to hire sidelined workers, including former prisoners, untrained high-schoolers, disabled people, former drug addicts, and older people. They have tried to keep employees by offering cheap rewards — lotteries, prizes, better benefits, one-time bonuses, and small wage-raises.
In Bezos' case, he has even withdrawn some benefits to offset his offer of a $15 minimum wage and is only offering a $1 per hour raise to employees who make over $15. Amazon is also importing thousands of  H-1B visa-workers to minimize pay raises for U.S. college graduates.
Immigration lawyers are offering to help the investors avoid pay raises by filling those jobs with lower-wage foreign workers:
Imagine the good work that immigrants could provide to fill the record high 6.9 million open jobs in the US! But our government continues to build an #invisiblewall to keep them out. https://t.co/4E8UcEQmon

— elissa taub (@ejtaub) October 3, 2018
But the alternative sources of labor and work incentives are being swamped by the rising marketplace pressure — leaving CEOs with no alternatives to the unwanted option of poaching each other's workforces with lures of extra pay.
Investors and CEOs also hope that business-first GOP legislators or Democrats in Congress will solve their problem by approving a new gusher of foreign workers via amnesties and the visa-worker programs.
But if Trump keeps his "Hire American" policy, and if he blocks any cheap-labor giveaway, voters' wages are going to rise over Christmas — and perhaps over the next 22 months leading up to the 2020 presidential election.
So far, Trump has been reluctant to highlight the modest pay raises, or even to promise wage increases to voters. But the Amazon news prompted him to make a cautious boast:
"National wage growth is at the highest it's been in nearly 17 months — and, according to a new study released by Glassdoor, it's not expected to slow down anytime soon…." https://t.co/G0Ts6yVqF9

— Donald J. Trump (@realDonaldTrump) October 3, 2018
Four million young Americans will join the workforce this year, but the federal government will also import 1.1 million legal immigrants, and allow an army of at least 2 million white-collar and blue-collar visa-workers to work U.S. jobs, alongside additional asylum-claiming migrants and at least 8 million illegal migrants.
Overall, the Washington-imposed economic policy of economic growth via immigration shifts wealth from young people towards older people by flooding the market with cheap white-collar and blue-collar foreign labor.
That flood of outside labor spikes profits and Wall Street values by cutting salaries for manual and skilled labor offered by blue-collar and white-collar employees. The policy also drives up real estate prices, widens wealth-gaps, reduces high-tech investment, increases state and local tax burdens, hurts kids' schools and college education, pushes Americans away from high-tech careers, and sidelines at least 5 million marginalized Americans and their families, including many who are now struggling with opioid addictions. Immigration also pulls investment and wealth away from heartland states because investment flows towards the large immigrant populations living in the coastal states.
http://feedproxy.google.com/~r/breitbart/~3/-I-0WY3Daag/