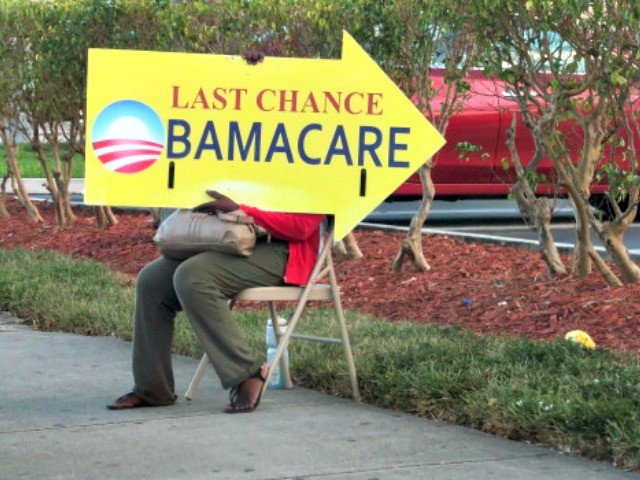 Land O' Lakes announced on Thursday that they created America's first Association Health Plan (AHP), which offers plans nearly 50 percent less expensive than Obamacare, thanks to President Donald Trump's executive actions on health care.
On Thursday, Land O' Lakes announced that they created America's first AHP, or a self-insured multi-state insurance pool available for farmers who work within the company's network. The AHP includes both co-ops and individual farmers across Minnesota and Nebraska.
On the company's AHP, also known as the Land O' Lakes Cooperative Farmer Member Health Plan, farmers can choose from several Obamacare compliant plans that cover all ten of the Affordable Care Act's (ACA) Essential Health Benefits (EHBs), while also providing broad network coverage and offering more affordable plan options than Obamacare's individual market.
In other words, thanks to Trump's executive actions on health care, Land O' Lakes can expand insurance coverage to more of their employees, offer less expensive plans that have broad network coverage, while at the same time protecting employees with pre-existing conditions.
Pamela Grove, senior director of benefits, said in a statement on Thursday, "For years Land O'Lakes has recognized the need for affordable, comprehensive health care options for our producers and farmers. Now we have an option for those in Minnesota and Nebraska."
Following a request for comment, Brooke Dillon, a spokeswoman for Land O' Lakes, told Breitbart News that the Land O' Lakes AHP plans would save their members anywhere from 15 to 45 percent compared to Obamacare individual market plans.
Land O' Lakes' creation of the first AHP could serve as a model for other companies and industries to create their own AHPs, which would offer Americans less expensive health insurance options compared to Obamacare.
In October 2017, President Trump signed an executive order expanding more affordable health care options such as AHPs and short-term health plans.
The Trump administration rule on AHPs allows small businesses to join together and benefit from the regulatory advantages that many large companies experience under health insurance rules. AHPs can serve employees in a city, county, state, or a particular industry across the nation.
A study from Avalere Health found that Americans would experience drastically lower health premiums through AHPs compared to Obamacare. AHPs would be roughly $2,900 lower per year compared to the small-group market and $9,700 lower per year compared to the individual market. Avalere cites that the lower average premiums in AHPs mostly result from a healthier insurance pool due to "risk selection" and less generous offerings. The Avalere research found that as many as 3.2 million Americans could leave Obamacare for AHPs.
When President Trump signed the executive order expanding AHPs and short-term plans, Sen. Rand Paul (R-KY) praised the order as "the biggest free-market reform of health care in a generation."
Land O' Lakes' creation of the first AHP serves as a significant victory for Trump and Republicans one week ahead of the 2018 midterm elections. After Democrats failed to tank the confirmation of Judge Brett Kavanaugh to the Supreme Court, they pivoted towards attacking Republicans over their alleged plans to repeal protections for pre-existing conditions, despite most Republicans and President Trump promising to protect patients with pre-existing conditions.
The company's creation of the first AHP shows that Republicans' call for protecting pre-existing conditions does not merely serve as campaign rhetoric, but rather, that Republicans can offer Americans health options that both protect pre-existing conditions while at the same offer plans far less expensive than Obamacare individual market plans.
Sen. Bill Cassidy (R-LA), one of the Senate's foremost healthcare experts, explained in an October interview with Breitbart News that Democrats cannot claim to protect Americans' health care if they cannot afford their health insurance.
"That is the ultimate loss of coverage for [those with] pre-existing" conditions, Cassidy said. "You can't afford it."
Sen. Cassidy said that Democrats will continue to defend the "absence of affordability."
President Trump tweeted on Wednesday that Republicans will protect Americans with pre-existing conditions far better than Democrats.
Trump wrote, "Republicans will protect people with pre-existing conditions far better than the Dems!"
Republicans will protect people with pre-existing conditions far better than the Dems!

— Donald J. Trump (@realDonaldTrump) October 31, 2018
http://feedproxy.google.com/~r/breitbart/~3/IkMyH35D1T0/