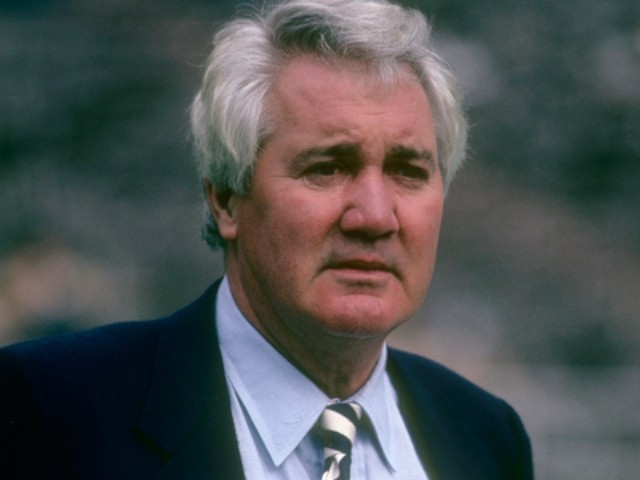 The widow of legendary NFL broadcaster and player Pat Summerall, has filed a concussion claim against the NFL, a report says.
Cheri Summerall filed the claim on behalf of her former NFL placekicker husband on Sept. 8th, saying it's a show support for other former players who have raised issues of concussion-related injuries, the Star Telegram reports.
Summerall passed away in 2013 of a heart attack at 82. He was a fourth-round NFL Draft pick in 1952 and played for the Detroit Lions, the Chicago Cardinals, and the New York Giants. Summerall began his broadcast career in the early 1960s as a morning personality for WINS radio in New York City.
Attorney James Acho filed the claim for the widow claiming that Summerall had been diagnosed with football-related dementia by Dr. Kyle Womack at UT Southwestern. The filing seeks monetary compensation, which the paper insists would not be great due to Summerall's age when he was diagnosed.
"I filed the claim because it is what Pat wanted, and even though Pat was not in the same financial dire straits that many of his former colleagues are, he always felt all for one, one for all," Acho told the media. "He felt a deep sense of esprit de corps with his fellow ex-players."
"Pat died two years after the concussion lawsuit was filed and he totally supported it, and this is what he wanted," Acho added.
Still, Cheri Summerall insisted that her husband "harbored no bitterness toward the NFL," even as he supported the 2012 concussion lawsuit.
"Pat supported this lawsuit when it was filed and as it turns out became a plaintiff himself when he was diagnosed," Mrs. Summerall said. "Pat believed the men who built the game should be taken care of and that's why we filed this. It was out of principle. It is also a show of support for the cause at large."
Follow Warner Todd Huston on Twitter @warnerthuston.
http://feedproxy.google.com/~r/breitbart/~3/dkQDfrCGZiI/