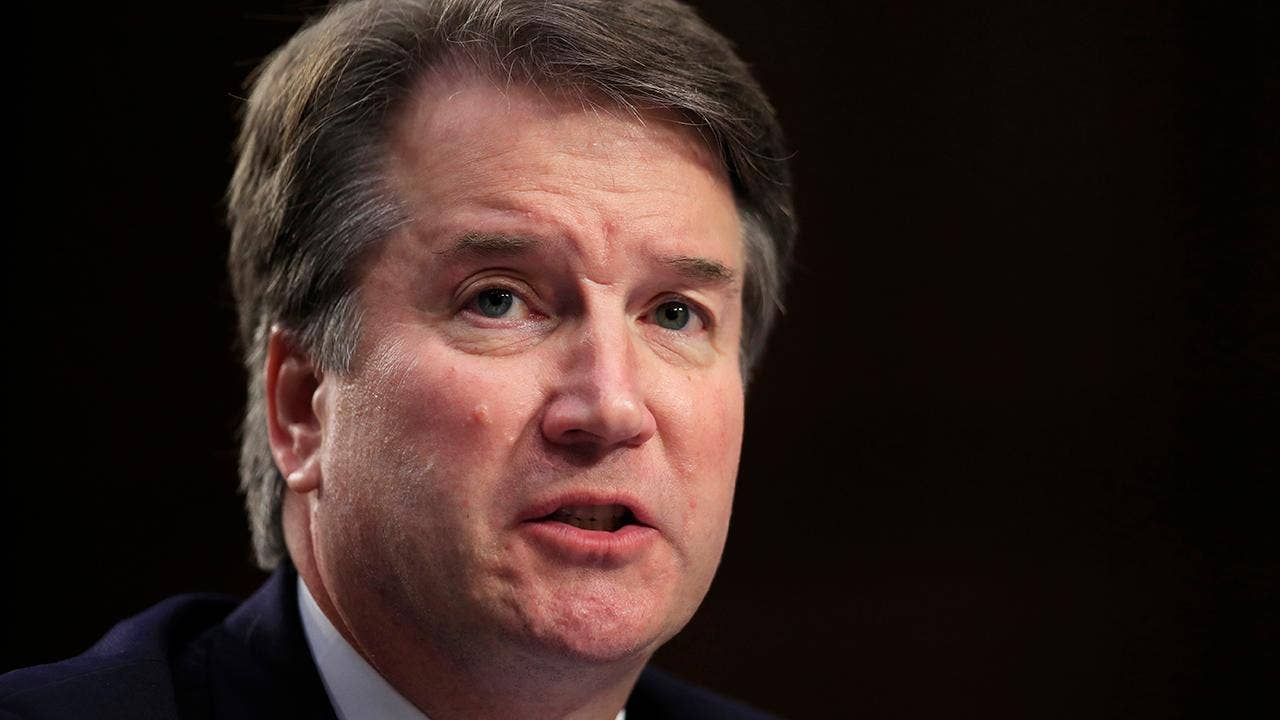 There is a stasis on Capitol Hill as to how things may unfold for a potential hearing on Monday for Supreme Court pick Judge Brett Kavanaugh and the allegations leveled by Dr. Christine Blasey Ford.
That said, Monday may not be the day to watch. It's likely that we'll know by late morning or midday Friday if there's to be a public session Monday.
Senate Judiciary Committee Chairman Chuck Grassley, R-Iowa, sent Ford's counsel another letter Wednesday. In the missive, Grassley states that if Ford intends to come to the public forum on Monday, that "consistent with Committee rules, Dr. Ford's prepared testimony and biography are due to the Committee by 10:00 am on Friday, September 21."
In other words, the committee needs to know Friday morning if it should prepare for an open hearing. Is it likely they still give Ford some time beyond 10 a.m. on Friday to decide? Yes. But there is a cut-off period.
Republicans are trying to extend a great deal of latitude to Ford as to how she may come forward to talk to the committee. After all, it was Ford who chose to go public over the weekend. So Republicans on the Judiciary Committee are reluctant to push, demean or attack Ford.
Grassley is willing to hear from Ford in private, even off Capitol Hill and away from the glare of TV lights. In a letter to Ford's counsel, Grassley said he'd listen to Ford "at a time and place convenient to her." Fox News is told committee aides are even willing to fly to California to interview Ford. But Grassley insists on one thing. The Iowa Republican wants this complete by Monday, September 24.
Grassley is reluctant to grant a key element of Ford's request: linking her appearance to the completion of a probe of the allegations by the FBI.
"The FBI does not make a credibility assessment of any information it receives with respect to a nominee. Nor is it tasked with investigating a matter simply because the Committee deems it important. The Constitution assigns the Senate, and only the Senate, with the task of advising the President on his nominee and consenting to the nomination if the circumstances merit. We have no power to commandeer an Executive Branch agency into conducting our due diligence. The job of assessing and investigating a nominee's qualifications in order to decide whether to consent to the nomination is ours, and ours alone," Grassley said in the letter.
Will there be a hearing if Ford rejects the committee offer? Doubtful.
"If she's not attending I don't know what the point of going forward would be," said Senate Majority Whip John Cornyn, R-Texas, a member of the Judiciary Committee.
Why the Republican deference to Ford? The GOP doesn't want to be perceived as "not hearing from her" or taking Ford's claims seriously. It's also significant that President Trump has said repeatedly Ford should testify. On previous occasions, the president has questioned the intelligence and integrity of women, ranging from House Minority Leader Nancy Pelosi, D-Calif., to Reps. Frederica Wilson, D-Fla., and Maxine Waters, D-Calif. But Trump has shown restraint with Ford. A tweet storm by the president directed at Ford could prove catastrophic for Republicans on the ballot this fall.
The GOP fears a political backlash from female voters, à la what unfolded in 1991 following hearings with Justice Clarence Thomas and law professor Anita Hill. The Thomas/Hill saga — coupled with sexual harassment allegations against then-Sen. Bob Packwood, R-Ore. — triggered what political observers dubbed "The Year of the Woman" in the 1992 elections. The number of women in the Senate swelled from two to five. California became the first state in the nation to boast two female senators, one of whom is Sen. Dianne Feinstein, D-Calif., the top Democrat on the Judiciary Committee today.
The Thomas/Hill hearings transfixed the nation. Moreover, senators from both parties came off looking like buffoons. "Saturday Night Live" parodied the hearings in an epic "cold open." The sketch portrayed senators as eager pupils, hungry to learn dating tips from Thomas and hear his views on lewd movies.
This is why some Republicans are eager to avoid the spectacle of a hearing. Some Republicans suggested privately it may be better for Ford not to testify publicly at all. That means Republicans get the upper hand with optics and don't have to endure the spectacle of 11 male GOP senators questioning Ford.
Democrats and those close to Ford hardly think GOPers are doing her any favors.
'DISAPPOINTED' GRASSLEY DEMANDS FEINSTEIN TURN OVER KAVANAUGH ACCUSER'S LETTER
Ford attorney Lisa Banks says her client "is unable to go home, and is receiving ongoing threats to her and her family's safety. Fairness and respect for her situation dictate that she should have time to deal with this." Banks accused Republicans of a "rush to a hearing."
"It's unreasonable for the committee to force her hand without doing the appropriate investigation in my opinion. I think that they jumped the gun on this and I would like to see an investigation done," said Sen. Doug Jones, D-Ala.; a potential swing vote on the nomination.
But, the confirmation or rejection of Kavanaugh boils down to a political question, not a legal one. As Grassley asserts, it's up to the committee and the Senate to provide Constitutional "advice and consent." Nothing else.
So what's a possible timeline to potentially conduct a committee vote and a confirmation vote on Kavanaugh?
Sources repeatedly chased Fox News away from the idea of a Monday committee vote on Kavanaugh. However, what happens if there's no hearing? Does the committee vote on Monday? Unclear. But the confirmation map would likely consume at least five calendar days.
Here's a hypothetical scenario, crafted strictly for the purposes of establishing a plausible timetable:
Let's say the committee votes on the nomination on a Monday. Senate Majority Leader Mitch McConnell, R-Ky., would prepare what's called a "cloture petition" to end debate on the nomination. But McConnell can't file the cloture petition until the next day, a Tuesday. By rule, efforts to limit debate in the Senate must lay over for one day before the procedural vote. So, if cloture is filed on a Tuesday, the layover day is a Wednesday. By rule, the vote to halt the filibuster is taken on the following day, Thursday. If 51 senators vote to break the filibuster, the nomination is on a glide path toward confirmation. But if opponents of the nomination use all time afforded them under Senate rules, the actual confirmation vote doesn't happen until later in the day on Friday.
LAURA INGRAHAM: SHADES OF DUKE LACROSS 'RUSH TO JUDGMENT' IN KAVANAUGH CHAOS
In other words, that process alone, by the book, consumes nearly a five-day workweek. McConnell's goal is to get Kavanaugh on the High Court by October 1, the start of the Supreme Court's new term. That's why the Senate could be in session next weekend or the confirmation fight could even spill over into October.
It wasn't that long ago it was thought that moderate Democrats facing competitive re-election campaigns this fall would have an easy path to vote in favor of Kavanaugh. Then, it was thought that the allegations may actually grant some of those Democrats a reason to vote nay. However, the accusations only complicate matters for those senators. Lawmakers like Sens. Joe Manchin, D-W.Va., Heidi Heitkamp, D-N.D., and Joe Donnelly D-Ind., represent states where Trump is popular. These senators may be reluctant to vote nay on Kavanaugh anyway. But what if nothing more is heard from Ford and the unproven allegations just linger in the political ether? Those senators then have a much tougher choice to make.
It's also unclear what the allegations mean for the midterm elections. How will voters interpret the actions of both parties? How did they treat Ford? How did they treat Kavanaugh? Was Kavanaugh confirmed? Was Kavanaugh rejected? We think we know a lot about the midterms at this stage in the election cycle. But there's a long way to go to before one can plug the Kavanaugh/Ford dispute into the political calculus.
When asked about Ford's allegation on Tuesday, Feinstein declared: "I can't say everything's truthful. I don't know."
But an hour later, Feinstein clarified her remark. "Based on what I know at this stage, she is credible," said the California Democrat.
Feinstein's comments crystallize the Kavanaugh/Ford narrative. We have two credible people who have risen to the tops of their professions. Yet, no one's certain about who's truthful.
And, there's no guarantee we'll know for sure even after a public hearing.
After all, people still wonder about Clarence Thomas and Anita Hill, 27 years later.
http://feeds.foxnews.com/~r/foxnews/politics/~3/c4NTqqMbSyk/why-status-kavanaugh-confirmation-process-could-become-more-clear-on-friday.html