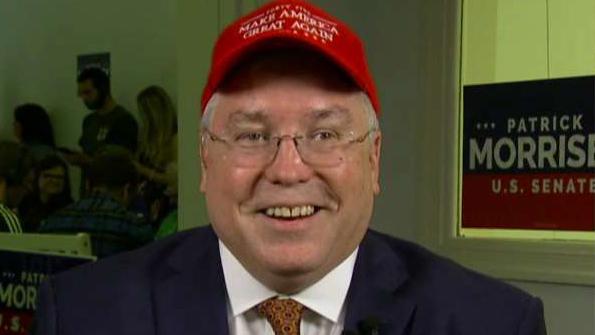 West Virginia Attorney Gen. Patrick Morrisey is hoping to topple an incumbent Democrat who has held his Senate seat for nearly a decade.
Morrisey is locked in a tight campaign against Sen. Joe Manchin, who was first appointed to the seat in 2010. He pulled off an upset in the Republican primary earlier this year, beating out coal baron Don Blankenship and Rep. Evan Jenkins to secure the GOP nomination in May.
Although the race leans Democrat, according to Fox News' rankings, it's one Republicans hope to take over in the midterm elections.
President Trump, who endorsed Morrisey in the primary, has set his sights on helping Morrisey in November. He headlined a rally for Morrisey in the Mountaineer State in August.
"I have done so much for West Virginia, against all odds, and having Patrick, a real fighter, by my side, would make things so much easier," Trump also said in a tweet.
Morrisey is the first Republican to serve as attorney general in West Virginia since 1933, his campaign website boasts. First elected to serve in the position in 2012, he was re-elected in 2016.
FOX NEWS MIDTERM ELECTIONS HEADQUARTERS
In his campaign, Morrisey, 50, has harped on his efforts as attorney general to curtail the state's opioid epidemic. He sued the Drug Enforcement Administration, saying it allows companies to not take into account patients' needs when selling drugs. And his office has reached settlements with pharmaceutical distributors for about $47 million, the largest in the state's history, according to his campaign website.
His past work as a health care attorney and his wife's work as a lobbyist who has represented several pharmaceutical clients, including those involved in opioids, have come under scrutiny during the race.
His wife's lobbying firm was also paid $460,000 by Planned Parenthood, the Charleston Gazette-Mail reported last year. Morrisey has said he is staunchly anti-abortion and opposes taxpayer dollars going to Planned Parenthood. He has also said he supports a repeal of Roe v. Wade, the landmark Supreme Court abortion case.
In an interview with Fox News, Morrisey said he's already worked with Trump to get rid of some Obama administration regulations and to "go after" sanctuary cities in West Virginia. He said he has an "excellent" relationship with the president.
Fox News' Peter Doocy and Alex Pappas contributed to this report.
http://feeds.foxnews.com/~r/foxnews/politics/~3/bv_HIpg9Tdw/who-is-patrick-morrisey-a-look-at-the-west-virginia-senate-hopeful