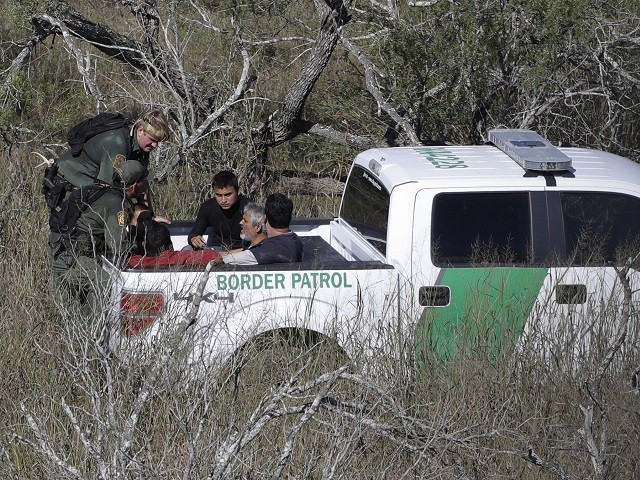 Progressives are denouncing a draft border-protection plan that would keep Central American adult migrants in border detention with their children for 20 days after they cross the border.
The 20-day plan is being developed as migrants, cartel smugglers, and pro-migration groups have collectively pushed the cross-border flow to a record level of 16,500 parent-and-child border-crossers in September. The plan will likely spur pre-election protests by pro-migration Democrats, was sketched in a Washington Post report:
One option under consideration is for the government to detain asylum-seeking families together for up to 20 days, then give parents a choice — stay in family detention with their child for months or years as their immigration case proceeds, or allow children to be taken to a government shelter so other relatives or guardians can seek custody.
Most of the "families" consist of a parent with one or more children, which are carried north to help the adults exploit legal loopholes. The Post continued:
While some inside the White House and DHS are concerned about the "optics" and political blowback of renewed separations, Miller and others are determined to act, according to officials briefed on the deliberations. There have been several high-level meetings in the White House in recent weeks about the issue.

…

The [President Donald] Trump administration believes it is on solid legal ground, according to two officials, in part because U.S. District Judge Dana M. Sabraw, who ordered the government to reunite separated families in June, approved the binary-choice approach in one of his rulings.
Pro-migration progressives instantly complained about the plan to keep parents and children together in detention. They are complaining even though many of those progressives — and Democratic legislators — have denounced migrants' "family separations" since May. Politico reported:
"We believe detaining families who are not a flight risk or danger is unlawful, and will cause yet more harm to children," said Lee Gelernt, an attorney with the American Civil Liberties Union, which represents separated parents in the San Diego case.
A prominent pro-migration immigration lawyer, David Leopold, theatrically described the draft policy as a "horror."
Trump getting ready to restart the horror of #FamilySeparation. https://t.co/FQOXRo9l5t

— David Leopold (@DavidLeopold) October 12, 2018
The Post described the 20-day plan as the "binary choice" plan.
The 20-day plan would likely help agency officials process migrants' legal claims faster, and likely slow the catch-and-release of job-seeking migrants with children. It would also weaken the "family separation" narrative which pro-migration progressives successfully used to end Trump's zero-tolerance policy in May and June.
That media-magnified "family separation" theme is used to stigmatize the legally required practice of sheltering migrants' children in government-funded homes while their migrant parents are detained for roughly 40 days to complete the immigration-court process.
Federal law says children cannot be kept in jails with their parents, and federal agencies say they wish to reunite families in their homelands, but pro-migration groups argue that Trump's deputies prefer to split families without regard to the law or deportations.
The 20-day plan is needed to stop the rising numbers of low-skilled workers who being smuggled by cartels to workplaces in the United States.
The flow is made possible by two factors:
First, several legal loopholes force border officials to release the migrants who bring children with them as they cross the border. The release deadline was set at 20 days by the 2015 Flores decision, even though 40 days are needed to approve or deny migrants' routine pleas for asylum. Many of the migrants say they are fleeing cartel violence, even though they have promised to pay the cartels roughly $10,000 to be smuggled through Mexico and over the U.S. border.

Second, the smuggling continues because the migrants can get jobs in the United States and so pay off their smuggling debts to the cartels. They can get jobs because the migrants don't face courtroom hearings or ICE deportation teams for at least two years because the huge inflow of migrants have clogged the courthouse process. Many migrants are welcomed by low-wage employers in the service-sector industries, such as restaurants, landscaping companies and in construction firms.
The inflow continues because progressive judges, as well as Democratic and GOP members of Congress, have repeatedly blocked Trump's border protection plans.
Those Trump plans include construction of a wall, closing the border loopholes, ending migrant-friendly rules in so-called "sanctuary cities," and boosting federal agencies' ability to detain, legally process and deport migrants.
Amid Congress' obstructionism, Trump's deputies, including aide Steven Miller and Attorney General Jeff Sessions have developed many new rules and procedures to combat the labor trafficking.
Nine ways in which Trump, AG Sessions, and DHS Nielsen are gradually getting migration under control. Estb. is fighting tooth-and-nail to distract middle-class from bigger issue of legal immigration/visa-workers which keeps wages low & stock-values high. https://t.co/H3AWytzza6

— Neil Munro (@NeilMunroDC) September 20, 2018
For example, Sessions' has ordered judges to end President Barack Obama's policy of awarding asylum to migrants who claim they fear spousal abuse or criminal gangs.
The Department of Homeland Security has drafted a regulation that would replace the 20-day limit set by the Flores regulation and is also pressuring employers not to hire illegals.
The Department of Health and Human Security is trying to end Obama's policy of delivering smuggled children from the cartels to their illegal-migrant parents and relatives who are living in the United States.  The agency is also using science to determine if young migrant men are avoiding deportation by claiming to be teenage youths, according to Vice.com.
Those reforms have slashed the percentage of migrants who win legal approval to stay in the United States but have not broken the economic machine which delivers Central American migrant workers to low-wage employers in the United States.
However, business groups and progressives have minimized the enforcement of judges' deportation orders. For example, there are relatively few teams of officers who can track and deport migrants who dodged their courtroom decisions. So far, the House and Senate's budget committees have both refused the White House's request for extra ICE hiring and detention spaces this year.
http://feedproxy.google.com/~r/breitbart/~3/EoiV7Khv61o/