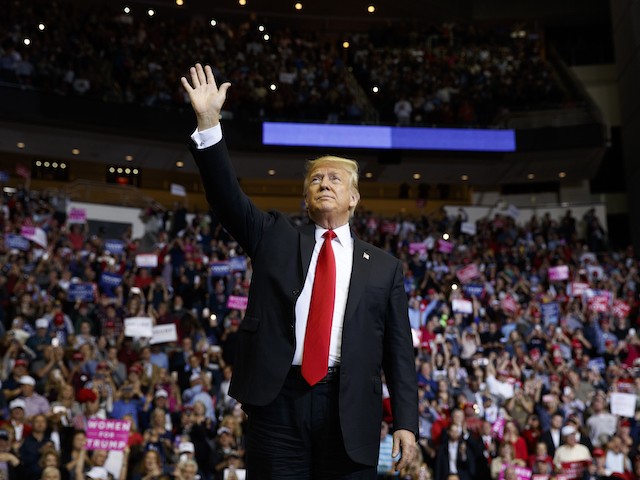 Donald Trump threw financial pundits back on their heels this week when he told the Wall Street Journal, "We don't have tariffs anywhere."
The financial press has obsessed over tariffs for most of the year, first declaring that the tariffs were a tax on consumers and would cost Americans jobs. And when those predictions did not pan out–consumer price levels are in line with the Fed's target and layoffs are at record low levels–carefully looking for and extensively reporting anecdotal evidence of claims not supported by data.
President Trump's comments to the Wall Street Journal, however, went even further.
"We don't even have tariffs," he said in the interview. "I'm using tariffs to negotiate. I mean, other than some tariffs on steel—which is actually small, what do we have? … Where do we have tariffs? We don't have tariffs anywhere."
That might sound shocking but Trump is mostly right on this.
The claim that we don't have tariffs anywhere is an exaggeration–but only a small one. The U.S. has imposed tariffs on just under $300 billion of imports. Forty-seven billion, or around 15 percent, of those tariffs are on the steel and aluminum tariffs, which Trump mentioned. The bulk of the rest is aimed at just one country, China. The remainder are on individual products, such as solar panels and washing machines. A bit here and there for specific violations of U.S. anti-dumping laws. For almost all other imports and all other trading partners, Trump has not increased tariffs at all.
The total dollar value of goods the Trump administration has imposed tariffs on is small when compared to the $2.9 trillion of imported goods and service the U.S. took in last year. The new tariffs range from 10 percent to 25 percent on around 10 percent of all of our imports. Call it a 1 percent to 2.5 percent import tariff, at least in the short term. That's not exactly disruptive. It's certainly not a screeching halt to global trade.
Subtract out China and the U.S. has raised tariffs on less than 2 percent of our imports. The new Trump tariff "wall" amounts to a fraction of a percent hike in tariffs on the rest of the world. Vanishingly small.
In other words, Trump has not built a wall around the U.S. economy. This is not the protectionist presidency that haunts the pages of the financial press.
Importantly, since the biggest part of the tariffs are aimed at just one country, the medium term impact is likely to be minimal everywhere except China. Many corporations will have to extricate supply chains from China to avoid the higher costs imposed by tariffs but these are short-term problems.
That's the view of the Federal Reserve. In the minutes of its most recent meeting, the Fed said that its "projection for the medium term was not materially changed, in part because the recently enacted tariffs on Chinese goods and the retaliatory actions of China were judged to have only a small net effect on U.S. real GDP growth over the next few years."
The most serious hiccup for U.S. companies is likely not directly from U.S. tariffs at all but from China's reaction. Sales to China will shrink as its trade deficit contracts, its economy slows, and its retaliatory tariffs raise prices for its own consumers. China will not be as big of a market for U.S. goods as some U.S. global corporations hoped–unless it relents to the demands of the Trump administration to give up its predatory trade practices.
In fact, some U.S. tariffs may be too low to accomplish Trump's goals. The U.S. Mexico Canada Trade Agreement tightens the rules of origin for auto manufacturing but because the tariff for not meeting the new rules is so low, many automakers may just ignore it and keep on shipping jobs to cheaper labor markets.
http://feedproxy.google.com/~r/breitbart/~3/tVadEnn4bOw/