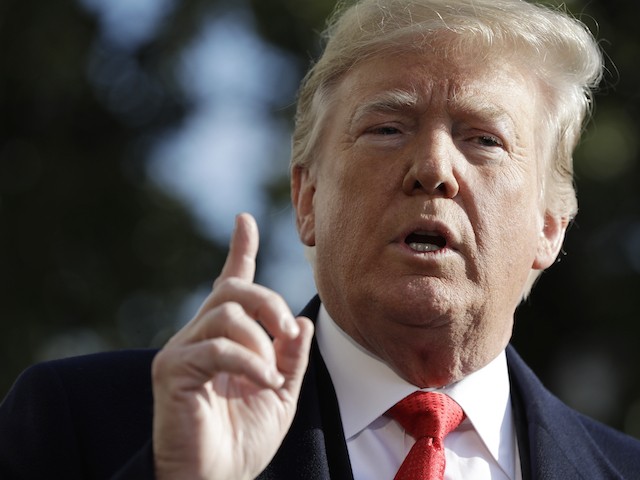 President Donald Trump said Friday that Special Counsel Robert Mueller and his investigators had conflicts of interest, demanding on Twitter that they are included in the final report.
"Will Robert Mueller's big time conflicts of interest be listed at the top of his Republicans only Report?" Trump asked.
Trump said Mueller and "Leakin' Lyin' James Comey" were "best friends," which represented a conflict of interest that should be noted in the report.
In his most lengthy condemnation of the report to date, Trump listed the grievances that he had with the investigation.
He said the report should reveal all of the Democrats involved in the investigation who donated to Hillary Clinton.
Trump reminded the world that attorney Jeannie Rhee, who was also part of the investigation, served as Deputy Assistant Attorney General Eric Holder and represented Hillary Clinton in an email lawsuit and the Clinton Foundation in a racketeering lawsuit.
"Wasn't the woman in charge of prosecuting Jerome Corsi (who I do not know) in charge of "legal" at the corrupt Clinton Foundation?" he asked. "A total Witch Hunt."
Trump also pointed out that attorney Andrew Weissman had a "horrible and vicious prosecutorial past" and had a case that were overturned 9-0 in the Supreme Court.
"Doing same thing to people now," he noted.
Trump also noted that Deputy Attorney General Rod Rosenstein, who was in charge of the report, had also signed the FISA warrant to investigate Trump advisor Carter Page
"Isn't Rod therefore totally conflicted?" he wrote, suggesting that the information should be included in the report.
Trump ultimately condemned the partisan nature of the investigation, suggesting that it should also include the bad behavior of Democrats and FBI political appointees.
"Will all of the lying and leaking by the people doing the Report, and also Bruce Ohr … Comey, Brennan, Clapper, and all of the many fired people of the FBI, be listed in the Report?" Trump asked. "Will the corruption within the DNC & Clinton Campaign be exposed?"
Mueller's prosecutors are expected to file sentencing recommendations on Friday for Michael Cohen, Trump's former attorney and Paul Manafort, Trump's former campaign chairman.
Robert Mueller and Leakin' Lyin' James Comey are Best Friends, just one of many Mueller Conflicts of Interest. And bye the way, wasn't the woman in charge of prosecuting Jerome Corsi (who I do not know) in charge of "legal" at the corrupt Clinton Foundation? A total Witch Hunt…

— Donald J. Trump (@realDonaldTrump) December 7, 2018
….Will Robert Mueller's big time conflicts of interest be listed at the top of his Republicans only Report. Will Andrew Weissman's horrible and vicious prosecutorial past be listed in the Report. He wrongly destroyed people's lives, took down great companies, only to be……..

— Donald J. Trump (@realDonaldTrump) December 7, 2018
…..overturned, 9-0, in the United States Supreme Court. Doing same thing to people now. Will all of the substantial & many contributions made by the 17 Angry Democrats to the Campaign of Crooked Hillary be listed in top of Report. Will the people that worked for the Clinton….

— Donald J. Trump (@realDonaldTrump) December 7, 2018
….Foundation be listed at the top of the Report? Will the scathing document written about Lyin' James Comey, by the man in charge of the case, Rod Rosenstein (who also signed the FISA Warrant), be a big part of the Report? Isn't Rod therefore totally conflicted? Will all of….

— Donald J. Trump (@realDonaldTrump) December 7, 2018
…the lying and leaking by the people doing the Report, & also Bruce Ohr (and his lovely wife Molly), Comey, Brennan, Clapper, & all of the many fired people of the FBI, be listed in the Report? Will the corruption within the DNC & Clinton Campaign be exposed?..And so much more!

— Donald J. Trump (@realDonaldTrump) December 7, 2018
http://feedproxy.google.com/~r/breitbart/~3/51a_rImi_cc/