Americans spent almost $100 billion to support 606,000 poor refugees in the 10 years up to 2014, according to a State Department report.
The $96.6 billion cost rises to $126 billion when officials count the extra cost of paying for the refugees' spouses and children, including U.S.-born children.
The $126 billion bill is just for programs managed by the Department of Health and Human Services. It excludes additional taxpayers' spending via state programs, as well as federal spending on Social Security, education, and housing programs, plus tax credits, says the State Department's annual report to Congress on the refugee program.
The one-agency, $126-billion firehose of cash, however, was a huge taxpayer subsidy to the refugee groups which delivered the refugee to cities and towns. It is also a huge subsidy to the low-wage employers who hired the refugees in place of higher-wage Americans, and to the grocery stores and apartments who sold food and rented apartments to the new arrivals.
The huge cost adds up to $670 per working American, not counting the hard-to-assess costs of crowded schoolrooms, flooded labor markets, civic diversity, and shifts in political power away from Americans.
The massive spending will continue because the vast majority of the 606,000 refugees remain in the United States, mostly in low-skilled jobs, and will age into retirement. Since 2014, former President Barack Obama imported an additional 155,000 refugees.
The expenses are high because few of the refugees have the skills to earn a good living. The report noted:
Education level: Respondents age 25 or older averaged 8.7 years of education before arrival; about half did not have a high school diploma upon arrival; and 29 percent of refugees age 25 or older listed their prior educational attainment as "none." Among respondents age 18 and older, 16 percent were pursuing a degree of some kind, with most seeking high school equivalency.

English language proficiency: Respondents improved their English over time, but large deficits remain. Among refugees age 18 or older who had lived in the United States between 4.5 and 6.5 years, 53 percent spoke English "not well" or "not at all," based on self-assessments.

Employment: 59 percent of respondents ages 16 to 64 were employed, lower than the 67.5 percent employment rate for native-born members of the U.S. population. Male respondents were employed at a rate roughly on par with the U.S. population after being in the United States for only two years. Employed refugees age 18 or older earned $12 per hour on average.

Public benefits use: Two percent of respondent households reported public assistance as their only source of income; 27 percent received cash welfare of some kind, most often Supplemental Security Income (SSI); and 56 percent received Supplemental Nutrition Assistance Program (SNAP) benefits. Among respondents age 18 or older, 57 percent reported having health coverage throughout the previous year, while 34 percent reported no health coverage. Among those with coverage, about half received Medicaid or Refugee Medical Assistance.
President Donald Trump has dramatically braked the inflow to 53,000 refugees in 2017 and has promised to accept a maximum of 30,000 organized-inflow refugees in 2019.
Also, the Department of Homeland Security has announced a new regulation to deny visas and green cards to foreigners who poor, unskilled, or old. For the moment, the rule does not apply to refugees.
Trump's slowdown has reduced the impact of refugee migration on Americans cities, such as Lewiston, Maine, or Kansas City, Kansas.
The reduced inflow has also forced many employers, especially meatpackers, to raise wages for Americans. Breitbart News reported:
The JBS meatpacking company has raised salaries by 25 percent to help persuade more people to work in a Texas slaughterhouse, according to the Washington Post.

But that good news, however, is buried by the Post's endorsement of the meatpackers' business strategy, which uses federal immigration programs to recruit replacements for injured or exhausted American (or migrant) workers and to minimize investment in labor-saving automation …

Overall, the Post's article is wrapped up in a self-serving view of immigration held by many progressives who justify the importation of a subservient class into the United States by promising that the immigrants' children will advance in society. The article concludes with [Stan] Corbin's progressive promise that "their children will grow up to be engineers … [but now] there is a great need for laborers."

In this view, the U.S. meatpacking industry is a social service agency for the world's poor which also provides liberals with cheap restaurants plus the satisfaction of helping distant foreigners. This "telescopic philanthropy" allows urban liberals to feel good about their generosity to foreigners while they ignore the costs they impose on nearby American communities, including the American blue-collar workers who see their salaries cut and the American children who are forced into overcrowded and dysfunctional classrooms.
The State Department's report provided a chart showing how the HHS agency spent the money: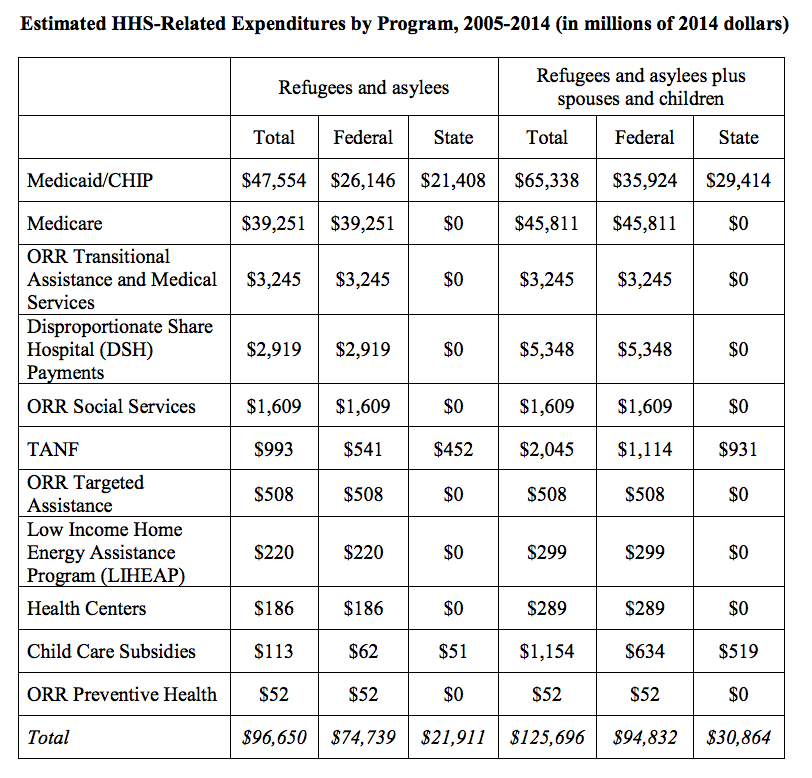 The report detailed which migrants were treated as refugees:
HHS estimated expenditures from the major HHS programs assisting refugees and asylees and their dependents over the 10-year period 2005-2014. For purposes of its analysis, HHS included individuals who entered the United States since 1980 as refugees, asylees, Iraqi and Afghan Special Immigrant Visa (SIV) holders and their spouses and unmarried children under the age of 21, Cuban and Haitian entrants, certain Amerasians from Vietnam, victims of a severe form of trafficking who have received certification or eligibility letters from ORR, trafficking victims family members with T nonimmigrant visas, and some victims of torture. Individuals who later changed their immigration status to legal permanent resident or naturalized as U.S. citizens are included as well.
Four million young Americans will join the workforce this year, but the federal government will also import 1.1 million legal immigrants, and allows an army of at least 2 million blue-collar and white-collar visa-workers to work U.S. jobs, alongside asylum-claiming migrants and illegal aliens.
Overall, the Washington-imposed economic policy of economic growth via immigration shifts wealth from young people towards older people by flooding the market with cheap white-collar and blue-collar foreign labor.
That flood of outside labor spikes profits and Wall Street values by cutting salaries for manual and skilled labor offered by blue-collar and white-collar employees. The policy also drives up real estate prices, widens wealth-gaps, reduces high-tech investment, increases state and local tax burdens, hurts kids' schools and college education, pushes Americans away from high-tech careers, and sidelines at least 5 million marginalized Americans and their families, including many who are now struggling with opioid addictions. Immigration also pulls investment and wealth away from heartland states because investment flows towards the large immigrant populations living in the coastal states.
http://feedproxy.google.com/~r/breitbart/~3/Uzo_pwlLhss/