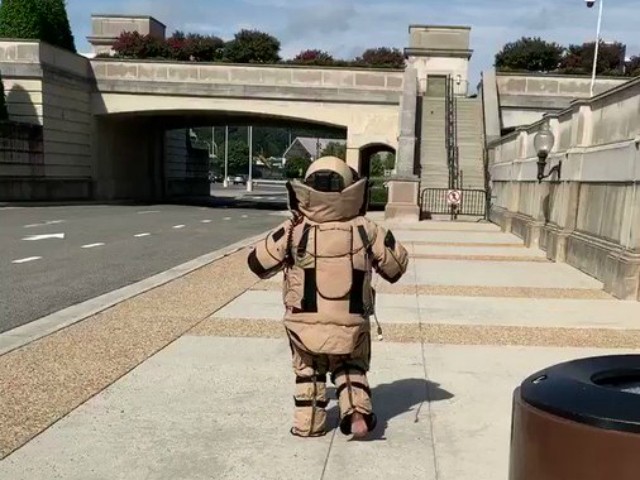 Three Air Force explosive ordnance disposal (EOD) technicians based at Joint Base Andrews in Maryland came to the Pentagon this week to brief reporters on what it takes to be a member of a military bomb squad.
The bottom line? It takes a lot.
EOD technicians have to be in top physical shape to bear the demands of wearing the bomb suit made famous in movies such as The Hurt Locker.
"It's hard to find people who meet all the requirements and are physically fit to meet the demands of wearing the suit every day and things like that," said Air Force Master Sgt. Aaron Lin, from Las Vegas, Nevada.
This Breitbart News reporter was able to try on the bomb suit — all 70-plus pounds of it. The helmet weighs about ten pounds alone.
Once on, the suit is fairly stiff and heavy, and the helmet gives one a slight sense of claustrophobia at first. While this reporter was able to slightly hop up and down and jog a few steps, she was not sure she would be able to step off a sidewalk and back onto it:
Me walking around in a bomb suit earlier today. (Yes, I am barefoot because I had worn heels today). pic.twitter.com/kSg2CIW5gb

— Kristina Wong🇺🇸🐲 (@kristina_wong) September 27, 2018
Another reporter wearing the suit was placed on his back on the ground — not unlike an overturned turtle — and told to get into a standing position. In a multi-step process, he was able to first roll over onto his stomach, rock himself to a kneeling position, and then stand up. (This Breitbart News reporter, who had worn heels and went barefoot for the experiment, did not attempt this.)
The suit was also hot inside, with no airflow. After five minutes of wearing the suit, this reporter was covered in sweat. Part of it was the sun bearing down on a clear, sunny, humid September morning with a temperature in the upper 70s, but most of it was being covered from head to toe in a suit and helmet with a face shield meant to protect the wearer from explosions.
No doubt, EOD technicians have faced hotter conditions in places such as Afghanistan and Iraq — where temperatures can reach upwards of 100 degrees.
To prepare for these conditions, EOD technicians train in hot and humid places, such as Florida, wearing the bomb suit for an hour to an hour-and-a-half at a time. They practice running in the suit. They also do pull-ups; the record is allegedly 16 pulls-ups, set by a Marine EOD technician.
Air Force Staff Sgt. Hunter Eckwall, from Clear Lake, Wisconsin, said he once did a ten-kilometer relay race in a bomb suit in South Carolina. "It was miserable," he said.
The world record for running a mile in a bomb suit was set by British Army Capt. Mark Gibbs at seven minutes and 24.21 seconds. The fastest female record was set by Army Capt. Ashley Sorensen in 2013, at 11 minutes and six seconds.
But wearing the bomb suit is only one part of the job. Huffing — or carrying — a 25-30 pound robot on their backs is another requirement of the job:
Here's an example of a robot that EOD techs have to huff on their backs. This one is about 25 pounds. pic.twitter.com/baUB2zPv2g

— Kristina Wong🇺🇸🐲 (@kristina_wong) September 27, 2018
In addition to wearing the suit, EOD techs often employ metal detectors that weigh anywhere between three to eight pounds.
"Eight pounds over a long period of time becomes 500 pounds in one arm because all you're doing is swinging back and forth the whole time," Air Force Staff Sgt. Javier Martinez, from Hayward, California, said:
Here's an eight pound metal detector EOD techs use.

"Eight pounds over a long period of time becomes 500 pounds in one arm because all you're dozing is swinging back and forth the whole time," said Air Force Staff Sgt. Javier Martinez. pic.twitter.com/eGnROx4kFp

— Kristina Wong🇺🇸🐲 (@kristina_wong) September 27, 2018
Training to become a qualified EOD tech takes nearly two years, with that training costing about a million dollars each year. After that, training continues on a constant basis, all year round.
"Our training is constant. We literally train every week of the year. We're always training. We have to stay proficient at our job and always stay ahead of the curve," Eckwall said.
Once deployed, there are typically only three EOD techs for a roughly 200-person unit, Lin said.
"Afghanistan and Iraq, you know, we were probably doing ten [improvised explosive devices] a day. It's pretty legit over there," he said. "There would be just the three of us, a technical sergeant, a staff sergeant, and maybe an airman, and the three of you are responsible for an entire area of responsibility of making sure a whole unit is safe."
"We were in the Arghandab River Valley, and there was probably 200 soldiers counting on us to make sure all the IEDs in the area were safe," he said, referring to a restive area in southeastern Afghanistan.
Lin, who last deployed to Afghanistan in 2012, said of those ten IEDs a day, on average, three would be trip-wire, four would be land mines, and three would be pressure plates.
That compares to the roughly ten IEDs a year stateside that Lin, Martinez, and Eckwall deal with now as part of the 11th Civil Engineer Squadron based at Joint Base Andrews. They, as part of the 20-member unit, deal with bomb threats throughout the Capital region.
Things still get plenty exciting at home. Eckwall recently dealt with a woman who drove up to the base gate, claiming she had an explosive in her car, and Martinez recently disarmed an IED that was sent via mail to a mail facility. The unit works closely with the Secret Service and other federal authorities.
The Air Force has about 1,000 EOD techs in total, although, Lin said, "We never have a 1,000," making each one in high demand.
The three discussed what made them want to sign up for such a dangerous mission. Lin, who has also deployed to Iraq, said he joined right after the September 11, 2001, terrorist attacks.
"When September 11 happened, I just really wanted to serve my country, and I knew that I could help save lives if I joined this career field," he said:
"When September 11 happened, I just really wanted to serve my country, and I knew that I could help save lives if I joined this career field," said Air Force Master Sgt. Aaron Lin from Las Vegas, Nevada, on becoming an EOD technician. pic.twitter.com/XROrCu3OVq

— Kristina Wong🇺🇸🐲 (@kristina_wong) September 27, 2018
Martinez said recruiters recommended him for the job after high test scores. They told him, "How about you try this one here? You get to shoot a .50 cal Barrett. You get to blow stuff up. You get to deploy and defuse bombs."
"It's not a simple job, but you know what? I get the job done, I get to save lives, and I guess that's a win in my book," he said. Martinez has deployed to Afghanistan and Kyrgyzstan:
"It's not a simple job, but you know what? I get the job done, I get to save lives, and I guess that's a win in my book," said Air Force Staff Sgt. Javier Martinez, from Hayward, California, on being an EOD technician. pic.twitter.com/aWeiIInUsg

— Kristina Wong🇺🇸🐲 (@kristina_wong) September 27, 2018
Eckwall, who has deployed to Europe and Kuwait, joined straight out of high school at 17. He said he talked to a recruiter and had first signed up for "some sort of aerospace mechanics."
But after he talked to a guy who went thru EOD school, he "figured, who doesn't want to blow things up every day?":
Unfortunately I didn't get a good pic of Air Force Staff Sgt. Hunter Eckwall (right).

He first signed up for "some sort of aerospace mechanics," but switched after he talked to a guy who went through EOD school.

"I figured, who doesn't want to blow up things everyday?" he said. pic.twitter.com/c6LAAMjtTK

— Kristina Wong🇺🇸🐲 (@kristina_wong) September 27, 2018
http://feedproxy.google.com/~r/breitbart/~3/csvQnCFrpBo/