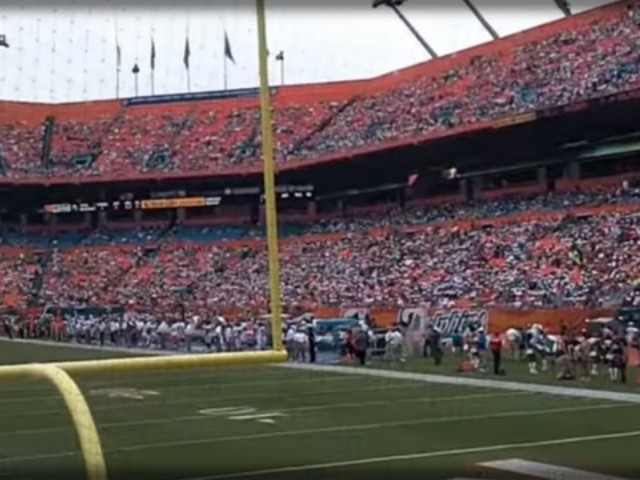 With the National Football League now entering the second half of the 2018 season, some teams are still not drawing fans to the stadium.
As in weeks past, the Washington Redskins seems to be lagging in attendance. While the Skins were trounced 38-14 at home in FedEx Field by the Atlanta Falcons, fans in the D.C. area seemed to have other things to do.
It's crazy because there are so many seats they ave covered up to make it look better but even with that you can tell it's a lot of empty seats. pic.twitter.com/qNTZ1AvfCJ

— RIP Trueboy // RIP Spotmeplzzz (@Shopmaster) November 4, 2018
Umm, lots of empty seats at FedEx for a 5-2 team. Daniel Snyder has destroyed this fan base.

— Doug Darnell (@spiderd2fresh) November 4, 2018
A lot of empty seats in that stadium. Why?

— Rich Gall (@rgallsr) November 4, 2018
Lmao look at this sad shit. Don't ever say we leave the stadium to me again when skins fans do this shit 😭 pic.twitter.com/1RrDBRz7jy

— I HATE adam caplan (@LethalSaint_) November 4, 2018
Skins record was what, 5-2? 1/3rd of their seats were empty during the whole game. As you can see how many we swiped 😭. During the 7ish minute mark half the stadium was gone 😭

— I HATE adam caplan (@LethalSaint_) November 4, 2018
Also, as one fan celebrated the Falcons, another pointed out how many empty seats could be seen in the video:
So. Many. Empty. Seats. 😂

— John Kim (@johnkim) November 4, 2018
The Redskins may have had their problems of late, but the worst attendance demerit goes to the Los Angeles Chargers with a total of 365,970 for the season followed by the Tampa Bay Buccaneers with 425,535 thus far. By comparison the top attendance award goes to the New York Giants with 625,236 fans in the seats through Week Eight.
Speaking of New York, the Empire State's other team, the New York Jets, winged their way to the Dolphins' Hard Rock Stadium to take a loss 13-6, but some fans lamented attendance for the Flight Crew. Fan Tim Sheehan, for one, warned that the Jets are not building much with all the empty seats he is seeing:
Losing is one way to get fired but fan apathy and empty seats is a guaranteed way to get fired. Jets not building on anything. They have a QB worth saving with professional coaching. It's TIME! @woodyjohnson4

— Tim Sheehan (@shewad) November 4, 2018
Another noted that the Dolphins are not doing much better:
The Dolphins have fans?? There were a lot of fans dusquised as empty seats at the snoozer of a game today

— Gordon Rae (@HomesByGordon) November 4, 2018
Meanwhile, as the Denver Broncos took on the Houston Texans at Denver's Sports Authority Field, fans noticed a lot of empty seats:
Quite a bit bare in the uppers RT @StacheSports04: 400 consecutive sellouts… @[me] #HOUvsDEN pic.twitter.com/pU2z8odn3F

— Empty Seats Galore (@EmptySeatsPics) November 4, 2018
@NickiJhabvala so I'm at the @Broncos game and lots of empty seats. Is today a record of no shows? #broncosfansarenthappy

— Tacojason (@Tacojason1) November 4, 2018
I feel like seeing empty seats at Mile High tells you all you need to know about how people feel about this staff/qb. #BroncosCountry

— LucasLee (@LucasLee45) November 4, 2018
It's embarrassing how many empty seats there are in the stadium. Come on Denver Fans!!! This is @Broncos country….. we can do better! 🏈❤️🇺🇸🏼‍♀️ #HOUvsDEN #unitedinorange

— alwaysBkind (@ThatShastaChick) November 4, 2018
One Baltimore fan pinned the empty seats at the Ravens' M&T Bank Stadium on Coach Harbaugh:
@Ravens Harbaugh has to go. It's time. Empty seats in the stands will start to reflect fan displeasures. It's way past due. Terrible product on the field.

— Grant D (@Derf_Dimes11) November 4, 2018
The Ravens were crushed 23-0 by the Pittsburgh Steelers on Sunday.
Follow Warner Todd Huston on Twitter @warnerthuston.
http://feedproxy.google.com/~r/breitbart/~3/u4YX2RRsqzg/