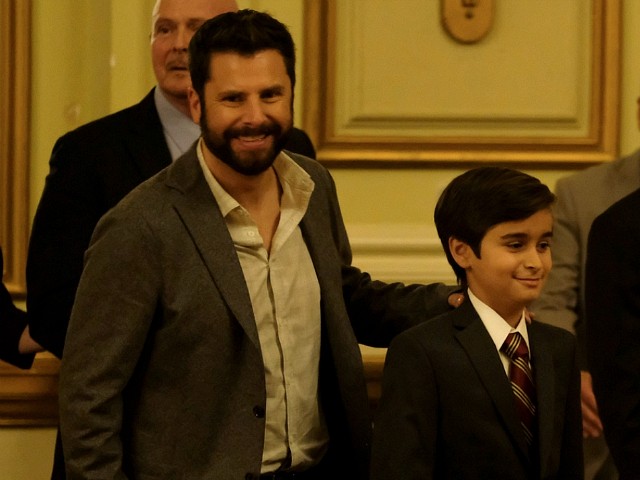 ABC's new drama A Million Little Things may be ABC's version of This is Us as it explores the lives of a family in the wake of the suicide of the family patriarch. While its first episode explored suicide and the importance of spotting warnings signs, episode two went woke with an 11-year-old boy coming out as gay.
For most 11-year-olds, sex is not exactly a serious topic. For many boys that age, girls are still "icky." And for many girls, having a "boyfriend" may only mean that she once held a boy's hand. But for A Million Little Things, Danny, played by 11-year-old actor Chance Hurstfield, is struggling with the realization that he's gay and blames himself for his father's suicide.
In Wednesday night's episode, "Band of Dads," Danny is struggling with two problems. His father committing suicide is, of course, the main plot line of the series. But last night viewers also learned that Danny has decided he is gay and that a family friend, who calls himself "uncle Gary" (James Roday), not only knows but falls all over himself to celebrate the boy's feelings.
In one scene, "uncle" Gary asks Danny if anyone at school that he's attracted to. The boy hints that he thinks a someone named Ella may like him.
Later in the episode, Gary suspects Danny may not have been fully forthcoming about their conversation about being attracted to a classmate. Danny is worried that his being gay might have been the reason for his father's suicide.
"Do you think he did it… because of me?" Danny asks Gary. "Maybe he knew things about me. Things I didn't think other people knew. Things that… you know."
Gary is shocked by the suggestion, as you can see in the video via Newsbusters.
"I know your dad. You know your dad, okay? And while we may never know why he did this… I know he definitely didn't do it because of you," Gary said. "And for the record, if he did know what I know, his reaction would have been the same as mine. To love you even more. Got it?"
Follow Warner Todd Huston on Twitter @warnerthuston.
http://feedproxy.google.com/~r/breitbart/~3/2YWRoIwFFfY/