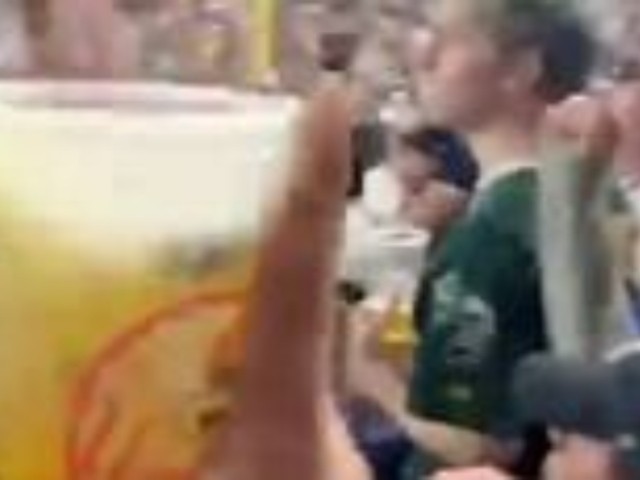 Yankees fans had a lot to celebrate Wednesday night. However, at least in the case of one green-haired A's fan standing in the bleachers, the celebration got messy.
During one of their many celebratory moments in the course of their 7-2 Wild-Card elimination game victory over the A's. A Yankees fan decided that in order to adequately celebrate surviving and advancing to the next round of the playoffs, he had to douse the nearest Oakland fan with a full cup of beer:
Throwing beer at an A's fan after their season just ended??? This is why everyone hates the Yankees. #ScrewYouYankees pic.twitter.com/VfmfLxHDHN

— Thomas Arend (@Thomas_Arend_22) October 4, 2018
Making matters worse, the fan decided to complete the brewski assault by chucking the cup at the green-haired spectator.
While no one should assault another fan, for any reason. There are also costs associated with such an attack. If the fan was consuming a Pinstripe Pilsner, which is available in the Bleachers, a large Pilsner costs $12.89. large souvenir domestics and imports will set you back $10.89 and $11.89, respectively.
It just seems there's got to be a cheaper, less assaulty way to celebrate.
http://feedproxy.google.com/~r/breitbart/~3/9mOhtnAJwDg/