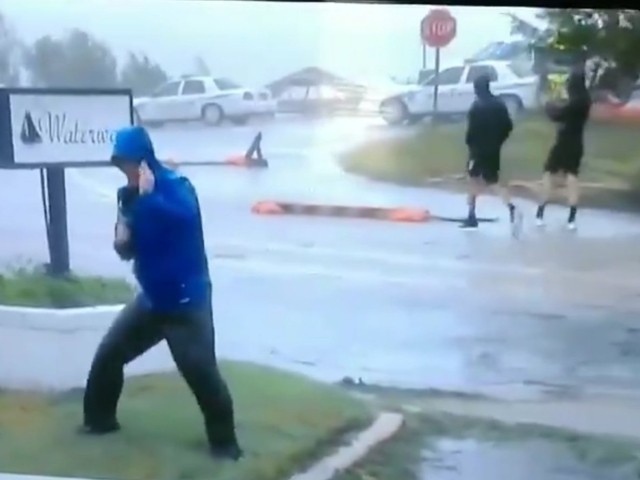 A reporter with the Weather Channel conducting a live shot in North Carolina near where Hurricane Florence made landfall struggled to maintain his balance while two people casually walked by in the background, according to a viral video of the incident.
So dramatic! Dude from the weather channel bracing for his life, as 2 dudes just stroll past. #HurricaneFlorence pic.twitter.com/8FRyM4NLbL

— Tony scar. (@gourdnibler) September 14, 2018
The viral video showed Weather Channel reporter Mike Seidel in Wilmington, North Carolina, shifting his position to brace himself against the wind gusts coming at him.
"This is about as nasty as it's been," Seidel said in the clip.
But as Seidel appeared to be bracing against the wind, two people in the background appeared to be walking in a parking lot without any difficulty.
Many social media users picking up on the two people in the background and mocked the reporter for exaggerating the wind gusts of Hurricane Florence.
"So dramatic!" wrote the Twitter user who posted the clip, which was viewed nearly 18 million times as of Saturday afternoon. "Dude from the weather channel bracing for his life, as 2 dudes just stroll past."
Other users soon followed with their own takes on the viral video:
It's Windy Somewhere. Not Really Here, But Somewhere. 😇#HurricaneFlorencepic.twitter.com/Mj8bWEwXcN

— ~Marietta️ (@MariettaPosts) September 15, 2018
The wind is weaker 25 feet away. https://t.co/T5F0iV329g

— Jim Myers (@jbotcher_myers) September 14, 2018
Oh….he was so brave! That grass must have been tremendously slippery and tremendously wet! *snicker pic.twitter.com/etDyrj9TFW

— Lisa (@dragonlady042) September 15, 2018
Ha! Look at the tall grass in the background, if he's trying to resist the wind then he's leaning the wrong way! Fake News strikes again!

— Off The Deep End (@GypsyGentry) September 15, 2018
The Weather Channel eventually issued a statement defending its reporter, saying he was standing on wet grass and "exhausted."
"It's important to note that the two individuals in the background are walking on concrete, and Mike Seidel is trying to maintain his footing on wet grass, after reporting on-air until 1:00 a.m. ET this morning and is undoubtedly exhausted," the network said in a statement.
Florence, which is now a tropical storm, is causing extreme flooding in many areas of the Carolinas and has killed at least seven people.
http://feedproxy.google.com/~r/breitbart/~3/BDu4BJ8uhVk/