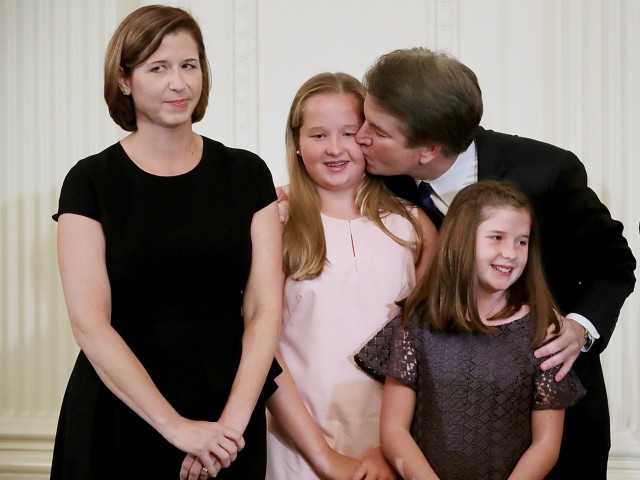 Supporters of President Donald Trump broke into a "We want Kavanaugh!" chant during a rally at the Landers Center in Southaven, Mississippi, Tuesday evening.
Speaking before the raucous crowd, President Trump told attendees that "since the very first second he was announced," Democrats vehemently opposed Kavanaugh because the Supreme Court nominee "follow[ed] the Constitution as written."
The president's declaration drew loud cheers from the audience and was soon followed by an energic "We want Kavanaugh!" chant.
"You know for ten years, I don't know him, I never met him, but I've been hearing, 'There's this guy named Brett Kavanaugh, who is like a perfect person destined for the Supreme Court," President Trump said before launching into a full-throated dismissal of the decades-old sexual misconduct allegations recently brought forth against Kavanaugh.
"I've been hearing that for a long time. First in his class at Yale, top, top, in his class, at Yale Law School, he's led a life that's unbelievable. He's had no problems. They've never taken him out of restaurants. This is a person that everybody thought, at the highest level on both sides, they said 'one day he will be a Supreme Court Judge."
President Trump then took a veiled swipe at allegations leveled by Julie Swetnick, who accused Kavanaugh and his friend Mark Judge of being present at house parties while women were ganged raped in the 1980s.  "I looked at him, and I looked at the man that we appointed just before him, Justice Neil Gorsuch, who was put through the paces but nothing like what's happening now, which is just crazy. They have 'gang rape' many times," he said. "Well that turned out to be false. So many different charges. 'Guilty until proven innocent' — that's very dangerous for our country."
Without directly referencing Democrat members of the Senate Judiciary Committee, President Trump lamented how "evil people" had "shattered" the lives of the Kavanaugh family by politicizing shaky accusations against the judge. "A man's life is in tatters. A man's life is shattered. His wife is shattered, his daughters, who are beautiful, incredible young kids … they destroyed people," the president said. "They want to destroy people. These are really evil people."
http://feedproxy.google.com/~r/breitbart/~3/XbShfL-ZX1k/