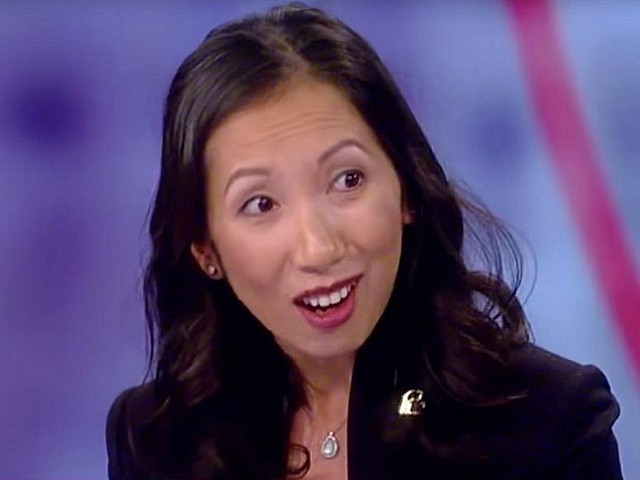 New Planned Parenthood president Dr. Leana Wen made her first appearance on The View, where she told the hosts Planned Parenthood is a "transparent" healthcare organization in which abortion accounts for only three percent of its services.
Wen may be new, but the "three percent" myth is an old one that even left-leaning news organs like the Washington Post and Slate debunked several years ago.
Media Research Center provides a clip of Wen's appearance.
The View co-host Sunny Hostin challenged Wen's reference to the "three percent" statistic by noting Planned Parenthood "provides … the most abortions than any other healthcare provider" with 328,348 abortions in 2016.
"Planned Parenthood, I don't think, is transparent about that," Hostin said, while co-hosts Joy Behar and Whoopi Goldberg defended Wen's organization.
Wen, however, insisted the "three percent" figure was correct.
"I disagree with this," she said, asserting that Planned Parenthood "follows the law and is transparent and makes clear what are the procedures that we perform."
Wen also would not address the issue of the fungibility of Planned Parenthood's taxpayer funding — that such monies, while technically barred by the Hyde Amendment from being used for abortions per se, could be utilized to offset other clinic costs, such as the salaries of abortionists, to free up other funds for abortions.
Co-host Abby Huntsman referred to Planned Parenthood as "political" and "very divisive."
"I hear all the time, I don't want my taxpayer money going to fund an organization that provides abortions, whether or not the money is direct or indirect," she said. "Do you understand why people have a hard time with it?"
Wen, however, replied, "Health care shouldn't be political."
The Post– which gave Planned Parenthood "Three Pinocchios" for its "three percent" figure – noted the group counts all its services equally in order to come up with its statistic. The newspaper continued:
But there are obvious differences between these services. For example, a first trimester abortion can cost up to $1,500, according to the Planned Parenthood Web site. Yet an emergency contraceptive pill costs around $45 and a urine pregnancy test costs around $10 at a pharmacy. An abortion is a different type of procedure than a vasectomy, or testing for sexually transmitted infections or diseases, or a vaccine for human papilloma virus (HPV), and so forth.

While each service is listed separately, many clients received multiple services. A woman may get a pregnancy test, birth control and a pap smear, but she would be counted three times, once for each service, in the annual report.
"While Planned Parenthood has no legal obligation to make its data more public, it is unfortunate that the public has limited access to data about the organization," the Post concluded. "Planned Parenthood could end the speculation–and Pinocchios–by providing a more transparent breakdown of its clients, referrals and sources of revenues."
The left-leaning Slate also referred to Planned Parenthood's "three percent" figure as "most meaningless abortion statistic ever."
Looking at Planned Parenthood's abortion services another way, the Charlotte Lozier Institute (CLI) – which is affiliated with the pro-life Susan B. Anthony List – showed in a paper released in August 2017, that the abortion industry giant had actually obtained 35 percent of the U.S. abortion market – a figure that well overtakes the market shares of leaders in other industries.
CLI president Chuck Donovan and vice president and director of data analytics Dr. James Studnicki concluded from their research:
There is little or no demonstrable capability for definitive diagnosis or a range of treatments for any disease or condition at Planned Parenthood centers. With the exception of abortion, Planned Parenthood does not provide any service that is not easily available from alternative providers.
The View co-host Whoopi Goldberg also praised Wen with a statement that compared taxpayer funding of abortion to taxpayer funding of wars.
"There's a lot of stuff most people don't want to pay for, but as citizens this is part of what we have to do as Americans," she said.
On Wednesday, Planned Parenthood announced Wen had assumed the group's top post. An emergency physician who fled China as a child when her parents sought asylum in the United States, Wen has been an abortion rights activist who most recently served as commissioner of health for the city of Baltimore.
http://feedproxy.google.com/~r/breitbart/~3/vJctQ_hpQ44/