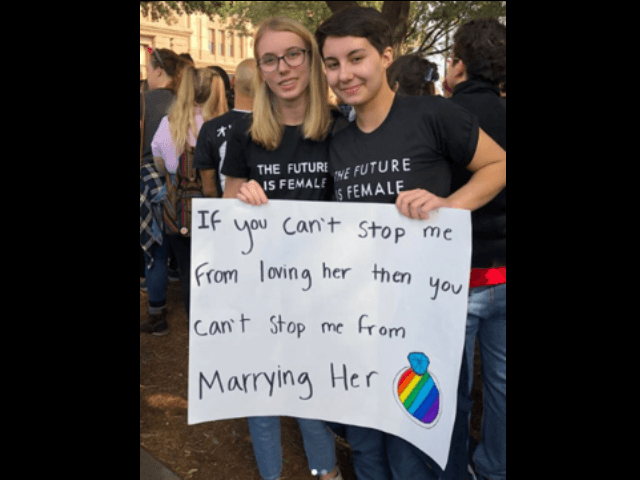 A Texas high school scrapped its tradition of crowning a homecoming king and queen after a lesbian student called the practice discriminatory. Instead, the upcoming dance will be gender-neutral.
Stephen F. Austin High School seniors Cecilia McBride and her girlfriend Story Dornsife were each nominated last week by their peers as contenders for the annual homecoming court. McBride asked to be considered for homecoming king instead of queen so she could walk in with Dornsife if they both won, according to KXAN.
Another lesbian couple also nominated by their classmates to the homecoming court liked that idea and wanted to follow suit. However, on Thursday, during a meeting with other homecoming court nominees, McBride was told by school administrators she could only run for queen. Otherwise she had to withdraw her nomination.
"They said, 'we don't do two queens, we won't do two kings, it has to be a king and a queen,'" said McBride. She told KXAN: "Because a king has to be male and a queen has to be female, it's impossible for a gay couple to win."
McBride said she told school officials: "This isn't okay. I was almost in tears. I was furious."
Then, McBride pushed back against the school rules which said a queen must be female and a king must be male. She aired her grievance in a meeting with Austin High School Principal Amy Taylor, according to the Austin American-Statesman. Apparently, Taylor responded to the student's complaint by disbanding the tradition of having a homecoming king and queen. Under a new policy, four seniors and two underclassmen will be elected as "Homecoming Royalty" on a gender-neutral court. Eight girls and four boys are vying for these spots.
McBride called the results of her meeting with Taylor "progress." She told the Statesman: "I'm actually really glad they moved forward with this so quickly — two or three hours." She said: "What I don't like is I'm sort of a fan of tradition. I don't know why we just can't have two people."
Voting for the annual dance's "royalty" began Monday. The winners will be announced at the high school's October 11 football game held the night before the homecoming dance.
The gender-neutral policy will carry forward to future homecoming dances held at Austin High School. However, an official with the Austin Independent School District told the Statesman they will not mandate the new homecoming court rules district-wide as such protocols are set by individual campuses and not the school district.
Kathryn Gonzales, operations and programs director for Austin's Out Youth, since praised Taylor's decision to change the high school's policy to favor gender neutrality. "To take a step back and evaluate a policy like this and then to change it, to accommodate where we're at now, is the right move," she told KXAN. "I think everyone deserves an equal experience."
Texas Values, an Austin-based group dedicated to preserving and advancing a culture of family values in the Lone Star State, responded to the Austin TV news outlet with a statement: "It's sad to see that a long-held tradition of simply honoring a girl and a boy for homecoming has been dethroned for the sake of political correctness."
Follow Merrill Hope, a member of the original Breitbart Texas team, on Twitter.
http://feedproxy.google.com/~r/breitbart/~3/cvjH84-93no/