REYNOSA, Tamaulipas — Violent clashes between Gulf Cartel Gunmen and state police officers continue to be a regular event in the Mexican border city of Reynosa. Citizen journalists continue to be the only ones documenting the conditions that local residents are forced to live in, where the sound of automatic gunfire has become commonplace.
A video recorded by citizen journalists captured the staccato sounds of gunfire as cartel gunmen and police forces recently clashed along a busy avenue in this border city located less than a mile from the border with Texas.
In that particular gun battle, Tamaulipas state cops pursued a gray Ford F-150 with three cartel gunmen inside. The chase had started in another part of the city when authorities spotted the gray pickup and a white Chevrolet Traxx — both vehicles had gunmen inside. Authorities tried to chase both vehicles but they split up and headed in different directions setting off fierce rolling gun battles. The chase of the small car ended when the driver of the vehicle was fatally struck by gunfire and a second gunman inside also died.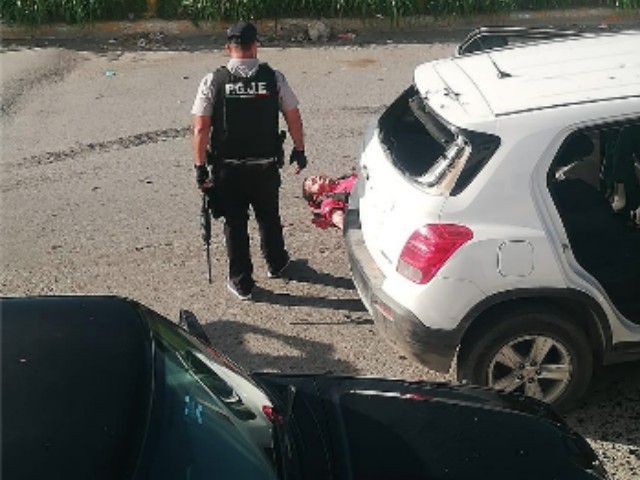 The chase of the gray pickup ended when the vehicle crashed with a public transportation bus along Boulevard Hidalgo, one of the city's main avenues. Three gunmen died inside of the pickup and authorities arrested a fourth one that tried to run away.
As Breitbart Texas reported, the violence follows an ongoing turf war between rival factions of the Gulf Cartel. Both factions have been deploying convoys of gunmen along city streets to hunt for their rivals. The gunmen often clash with authorities or military forces who are patrolling the streets in an attempt to keep down the violence.
Editor's Note: Breitbart Texas traveled to the Mexican States of Tamaulipas, Coahuila, and Nuevo León to recruit citizen journalists willing to risk their lives and expose the cartels silencing their communities.  The writers would face certain death at the hands of the various cartels that operate in those areas including the Gulf Cartel and Los Zetas if a pseudonym were not used. Breitbart Texas' Cartel Chronicles are published in both English and in their original Spanish. This article was written by "A.C. Del Angel" from Tamaulipas. 
http://feedproxy.google.com/~r/breitbart/~3/pqdnSuM1quo/