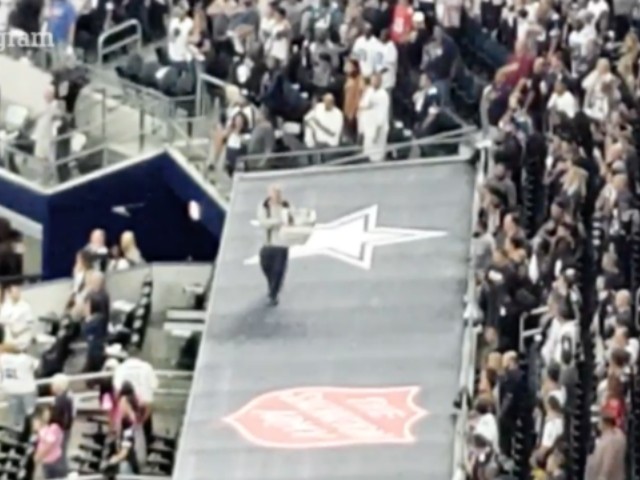 A protester got past Cowboys security during the national anthem at AT&T Stadium in Dallas on Sunday. The protester held a sign urging fans to "vote Republican" and "stop abortion."
"The fan jumped up on the platform above the suites in the west side end zone and held up a sign urging people to vote Republican in next month's election," the Star-Telegram reported.
A protester stood on the platform at the base of the stands, shouting "Vote Republican" and "Stop Abortion" while the National Anthem played before the #Cowboys–#Jaguars game. pic.twitter.com/I8PKegAQZh

— Mike Leslie (@MikeLeslieWFAA) October 14, 2018
Protester roamed in front of 100 level in protest during National Anthem. Sign said "Stop Abortion" and"Vote Republican." #Cowboys fan ripped sign out of man's hand and tore it up. pic.twitter.com/y3dsttLD4z

— Roy Lang III (@RoyLangIII) October 14, 2018
The Star-Telegram also reported, "The man was able to walk up and down the platform for most of the anthem before stadium security finally forced him back into the stands. As the man walked up the aisle another fan took the sign and tore it up."
While NFL anthem protests have dominated the news for much of the last two seasons, the player-led anthem protests have averaged fewer than ten per week in 2018. Sunday's incident in Dallas marks one of the few times that a non-football player has actually protested at an NFL game. It also marks one of the even more rare times that a protester has advocated in favor of Republicans, or conservative causes.
Follow Dylan Gwinn on Twitter @themightygwinn
http://feedproxy.google.com/~r/breitbart/~3/LjlBS7VX0KA/