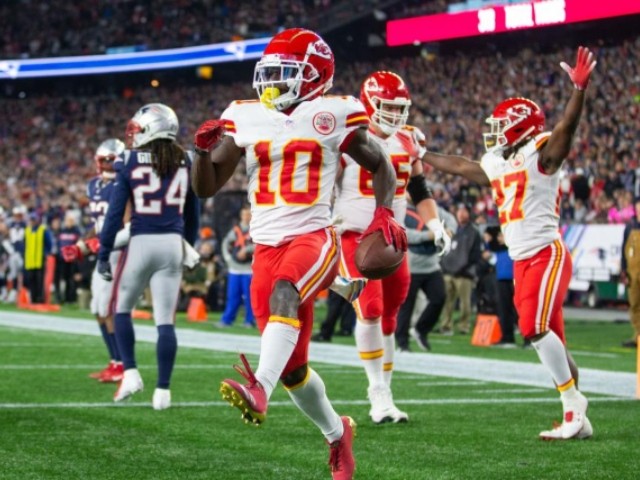 Oct. 15 (UPI) — New England Patriots fans gave Tyreek Hillthe middle finger and threw beer in his face after one of his three touchdowns in Week 6.
The Kansas City Chiefs star had a game-high 142 yards and seven catches in addition to his trio of scores during the 43-40 loss on Sunday at Gillette Stadium in Foxborough, Mass.
But he saved his biggest play for the fourth quarter. The Chiefs had a 1st-and-10 on their own 25-yard-line with about 3:15 remaining. They trailed 40-33 when Patrick Mahomestook the snap and fired a pass deep to the left flank. The star quarterback hit the speedster at about the Patriots' 37-yard-line. Then Hill turned on the jets, outrunning Patriots defenders for a game-tying 75-yard touchdown.
Hill ran out of the back of the end zone and up to a short wall where Patriots fans were gathered. Several of the fans shouted in his face, while others saluted him with their middle fingers. Another fan launched their beer at Hill, splashing it into his helmet.
75-yard touchdown. 💥

There's no stopping the @Cheetah. ✌️ pic.twitter.com/rZCu0MywP4

— Kansas City Chiefs (@Chiefs) October 15, 2018
The end of that touchdown catch by #Chiefs Tyreek Hill not exactly a banner moment for #Patriots fans. Especially the Bud Lite to the face. pic.twitter.com/cYS4RC7I6H

— Charles Robinson (@CharlesRobinson) October 15, 2018
Fellow Chiefs wide receiver Sammy Watkins came over to celebrate with Hill, while waving goodbye to the fans.
"I just got a sweet spot," Hill told Chiefs.com. "So my job is to take the middle of the field. I saw the safety and he was playing 20 or 30 yards deep. He didn't want me to get behind him. I kinda slowed it down a little bit and Pat read me. He threw the ball to me. I caught it. High-pointed it, because I'm a glass cleaner. I just made it shake. I made a play for him."
After the game, Patriots cornerback Stephon Gilmore called Hill the "fastest guy" he has ever covered. Patriots defensive back Duron Harmon agreed with that sentiment.
"He's by far the fastest person that I've ever came in contact with," Harmon told reporters. "That's what he is. He's a great athlete and he's fast. If he gets anybody in that position, more than likely he's going to be gone. I still have to find a way to do something, to try and get him down, to force him to the sideline. I've got to give my defense a chance to live to see another play, and I wasn't able to do that right there."
Hill, 24, leads the league with six receiving scores. He also has 34 receptions for 567 yards, averaging a career-best 16.7 yards per catch.
http://feedproxy.google.com/~r/breitbart/~3/bQYLcHcQDAA/