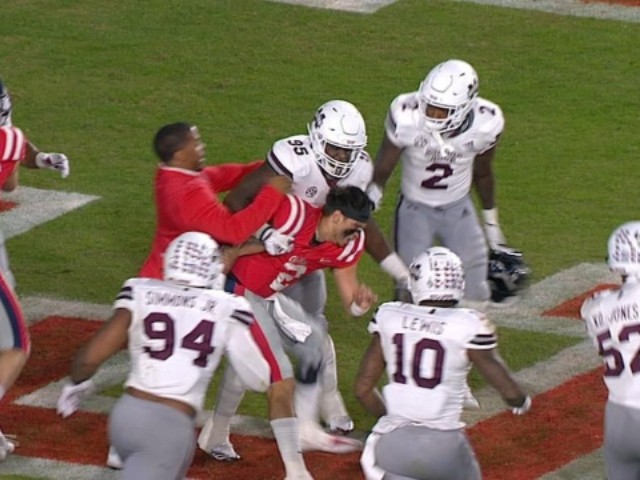 Tempers flared between Mississippi State and Ole Miss during the Egg Bowl on Thursday, resulting in a sidelines-clearing brawl that spilled out onto the field at the end of the third quarter.
After order was restored, four players were ejected from the game, ESPN reported.
The mix-up stemmed from a tackle after Ole Miss wide receiver A.J. Brown made it to the end zone for what appeared to be a touchdown run. But as Brown crossed the goal line, Mississippi State safety Johnathan Abram got a bit over zealous as he tried to wrestle the ball away from Brown.
Players from the two teams quickly began pushing and shoving over the incident as tensions rose.
The worst exchange occurred between Mississippi State cornerback Jamal Peters and Ole Miss quarterback Matt Corral with the two yanking at each other's pads and taking swings. At one point, Peters ripped Corral's helmet off his head.
"I was helping break some of it up," Ole Miss tight end Dawson Knox said according to the Clarion Ledger, "but there's not much you can do when the whole team is going at it."
When the dust finally settled, and everyone returned to his proper sideline, officials ejected Peters, Mississippi State cornerback Cameron Dantzler, Ole Miss defensive back C.J. Moore, and Mississippi State linebacker Willie Gay Jr.
Willie Gay was ejected because he earned his second unsportsmanlike conduct penalty of the game during the brawl.
"It's not what you want," Ole Miss head coach Matt Luke said. "You never want a fight or a penalty, no matter how heated the rivalry gets."
The game had already hit a contentious note when Peters flipped off Ole Miss fans because they booed him during a timeout, according to 247Sports.
The whole mess was made even more absurd because A.J. Brown's touchdown run was recalled because referees determined that the clock expired before the snap.
Mississippi State beat Ole Miss 35-3 on Thursday night.
Follow Warner Todd Huston on Twitter @warnerthuston.
http://feedproxy.google.com/~r/breitbart/~3/JXvyqG7QEOQ/