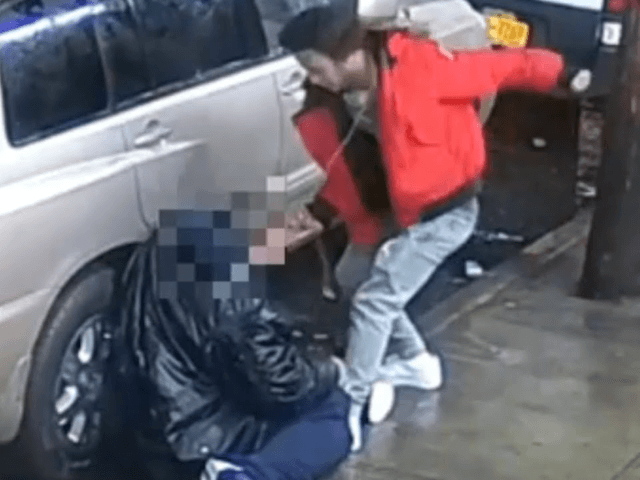 A violent Bronx mugger launched a surprise attack against a man, mercilessly punching and kicking him, and then robbing him after landing a knockout blow.
Police released surveillance video that clearly shows the face of the attacker who unleashed a flurry of punches at the surprised man's face outside a grocery store on West 183rd Street and Aqueduct Avenue in the Big Apple's Fordham Heights neighborhood, the New York Post reported.
Video of the incident is brutal:
The video shows a man in his 20s wearing a red coat walking up to a man standing next to a car parked on the street. The attacker speaks to his victim for a few seconds before delivering a series of sucker punches to the victim's face. The victim was so surprised that all he could do was throw up his hands to protect himself. But it was to no avail.
Eventually the attacker landed a blow that sent the victim crumpled to the ground. The punk then begins going through the man's pockets stealing his phone and whatever else he can grab.
But the attacker wasn't done. He continues punching the prone man and even began kicking him in the head while the victim was down and helpless. The attacker was last seen walking down 183rd Street.
The victim was taken to a hospital and treated for face and neck injures, police said.
The New York Police Department is asking anyone who may recognize the thug to call the Crime Stoppers tip line at 800-577-TIPS. Or submit an Internet tip. Or text a tip to "TIP577" plus the message to "CRIMES" (274637).
Follow Warner Todd Huston on Twitter @warnerthuston.
http://feedproxy.google.com/~r/breitbart/~3/YqV7-Gt9ttw/