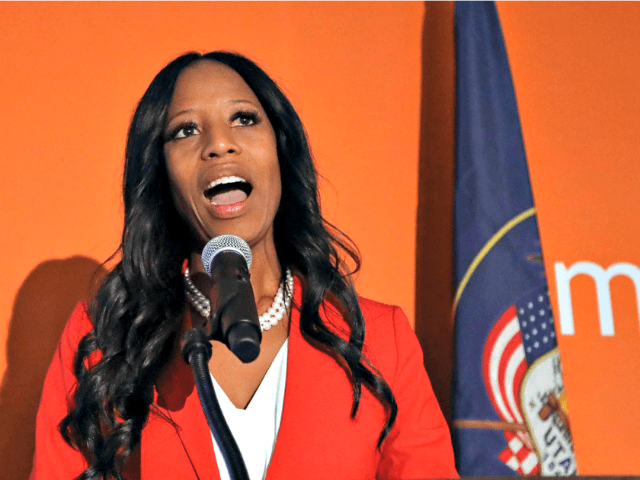 During her concession speech on Monday, Rep. Mia Love (R-UT) criticized President Trump, saying his world consisted of "no real relationships, just convenient transactions."
After a close and contentious race, Love conceded Utah's fourth district race to Democrat Ben McAdams, an individual she considers to be a "wolf in sheep's clothing."
Beginning her speech, Love said she had "reached out to Ben over the weekend and congratulated him for winning the election and I wish him well."
Love then focused on some of President Trump's past comments about her.
"The President's behavior towards me made me wonder: What did he have to gain by saying such a thing about a fellow Republican," Love asked during her concession speech in Salt Lake City. "It was not really about asking him to do more, was it? Or was it something else? Well Mr. President, we'll have to chat about that."
Love continued, saying, "However, this gave me a clear vision of his world as it is. No real relationships, just convenient transactions. That is an insufficient way to implement sincere service and policy."
WATCH:
Love then chose to focus on the "problems Washington" has with minorities running in races across the country. She said:
This election experience and these comments shines a spotlight on the problems Washington politicians have with minorities and black Americans — it's transactional, it's not personal. You see, we feel like politicians claim they know what's best for us from a safe distance, yet they're never willing to take us home. Because Republicans never take minority communities into their home and citizens into their homes and into their hearts, they stay with Democrats and bureaucrats in Washington because they do take them home — or at least make them feel like they have a home.
Love added, "Sadly, their character assassination tactics have so stained our state, that now citizens should expect that this is how elections will be won. Victory is theirs. I believe that we've elected a wolf in sheep's clothing. But the question remains: at what cost to the people of Utah? There is a cost, and we will pay it."
Love said her "role will change and we still have a lot of work to do" once January arrives. Love ensured her supporters that she "will not yield the moral high ground whatever the cost."
"Good news is, I'm not going away. But now, I am unleashed, I am untethered and I am unshackled, and I can say exactly what's on my mind," Love stated.
President Trump criticized Love earlier this month before the race had been called.
"Mia Love gave me no love and she lost," Trump said. "Too bad. Sorry about that, Mia."
Follow Kyle on Twitter @RealKyleMorris and Facebook.
http://feedproxy.google.com/~r/breitbart/~3/MPF1tNUo8PA/