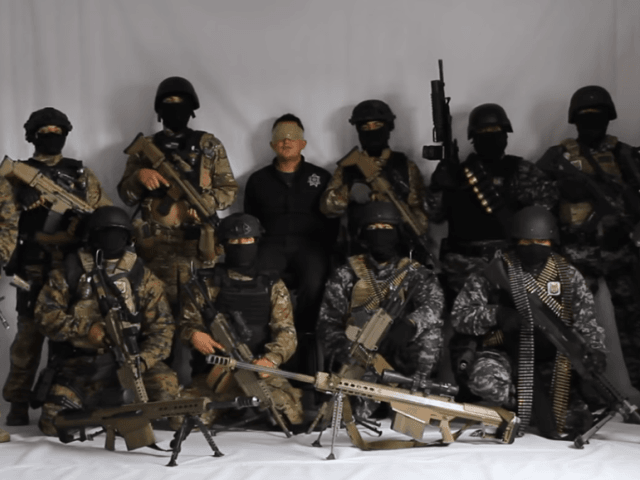 A municipal police officer in Chihuahua who was kidnapped by cartel gunmen on October 18 was found murdered Wednesday after appearing in a forced interrogation video released on social media.
A municipal police officer identified as Jesus Andrade Chagoya, 24, was found murdered early Wednesday morning in colonia Ex Agrícola San Antonio, Cuauhtémoc. Officer Chagoya was kidnapped by a group of gunmen in front of his residence after completing a shift and was later found in a vacant lot dressed in uniform with a gunshot wound to the head.
Several hours later, a video was uploaded onto various social media outlets depicting officer Chagoya with duct tape wrapped around his head, surrounded by 12 heavily armed men in military-style gear. Officer Chagoya is interrogated by an unknown individual who is not visible and names Cuauhtémoc municipal and transit officers who are reportedly working as lookouts for El Cartel del Tigre. Besides officers, Chagoya also names command staff and bodyguards. He adds that police personnel receive a salary of $3,000 to $5,000 pesos ($150.00 to $250 USD) per month. The video also warns those who are named during the interrogation.
Filmed interrogations like these are a common tactic of criminal organizations and serve as a warning to rivals and the general population. Those interrogated are usually beaten or tortured prior and are murdered and sometimes dismembered after.
The video is believed to be part of the ongoing war between El Nuevo Cartel de Juárez/La Línea and the El Cartel del Tigre, which is a cell of the Sinaloa Cartel. Breitbart News reported on the both of the criminal groups, including the capture of Julio Cesar "El Tigre" Escarcega Murillo, who was the leader of El Cartel del Tigre and previously served as a former Cuauhtémoc municipal police officer from 2004-2007.
In late October, Breitbart News reported on the discovery of six decapitated bodies located in the rural mountain community of Creel, which sparked fears of an escalation in territorial cartel violence. The six victims were later identified as members of "La Gente Nueva" who originated from Sinaloa and were believed murdered by El Nuevo Cartel de Juárez
Robert Arce is a retired Phoenix Police detective with extensive experience working Mexican organized crime and street gangs. Arce has worked in the Balkans, Iraq, Haiti, and recently completed a three-year assignment in Monterrey, Mexico, working out of the Consulate for the United States Department of State, International Narcotics and Law Enforcement Program, where he was the Regional Program Manager for Northeast Mexico (Coahuila, Tamaulipas, Nuevo Leon, Durango, San Luis Potosi, Zacatecas.) You can follow him on Twitter. He can be reached at robertrarce@gmail.com
http://feedproxy.google.com/~r/breitbart/~3/OGdSw1IuY8o/