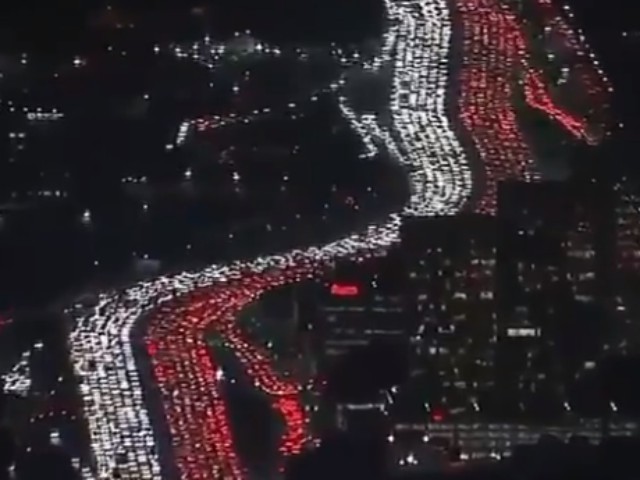 Vision shared to social media shows thousands of commuters sitting in gridlock traffic on Los Angeles' 405 Freeway ahead of Thanksgiving Day.
The Evening Standard reports that officials estimate roughly 50 million people will travel by car during the holiday – the largest number of Thanksgiving travelers in over a decade. The number of travelers in 2018 is up 4.8 percent from the previous year.
Retweet if Los Angeles traffic gives you anxiety! 😖 pic.twitter.com/X63tHjHhWw

— REAL 92.3 LA (@Real923LA) November 21, 2018
THANKSGIVING TRAFFIC NIGHTMARE | Aerial footage shows traffic gridlock on the 405 Freeway in Los Angeles as the Thanksgiving travel rush begins – https://t.co/KUHD8ufZSN pic.twitter.com/2eKALJ1vnr

— News4JAX (@wjxt4) November 21, 2018
Happening now: Thanksgiving traffic in Los Angeles… pic.twitter.com/Vj5qj2R6D4

— Darren Rovell (@darrenrovell) November 21, 2018
Holiday traffic headache already underway. #socal #LosAngeles pic.twitter.com/tVWiLGeMy9

— Kathleen Bade (@KathleenFOX5) November 21, 2018
Woah. #Thanksgiving Eve Eve traffic in #LosAngeles is no joke… and look at that sunset! 😍 #fox10phoenix pic.twitter.com/5bBX4OVSY3

— Christina Carilla FOX 10 (@ChristinaCFox10) November 21, 2018
The view looking at I-95. Our nearly 3 hour trip is taking nearly 4 hours courtesy of #Thanksgiving holiday #traffic. #patience #whiteknuckles #freelancelife pic.twitter.com/U1k0rE0oa8

— Diane Roberts (@DianesTalking) November 21, 2018
This holiday travel thing is not a joke! Can't believe the traffic to get to MSP airport terminal 1! pic.twitter.com/NZKGuoBRwh

— beachang (@beachang) November 20, 2018
While Los Angeles's bump-to-bump traffic is raising eyebrows on the road and online, New York City, San Francisco, and Boston are forecast to experience the worst delays in the county. Transportation analytics firm INRIX said some trips could take approximately four times longer than average.
Travel experts believe the United States' booming economy may contribute to increased congestion on the roads this year.
"Consumers have a lot to be thankful for this holiday season: higher wages, more disposable income and rising levels of household wealth," AAA Travel senior vice-president Bill Sutherland said. "This is translating into more travelers kicking off the holiday season with a Thanksgiving getaway."
http://feedproxy.google.com/~r/breitbart/~3/ij2PEkX8x58/