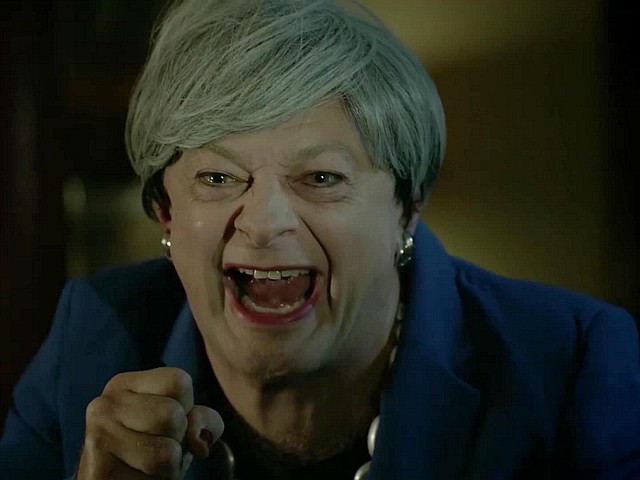 Lord of the Rings actor Andy Serkis revived his character Gollum from the hit fantasy film to mock British Prime Minister Theresa May as she fails to sell her Brexit withdrawal agreement to parliament and the British public.
Serkis, best known for providing the voice of the ghoulish Gollum in the film trilogy of JRR Tolkien's Lord of the Rings, appears dressed as Theresa May wearing a blue "power" jacket, grey wig, and painted nails.
In a video shared by the actor entitled "Leaked: Footage from Inside No. 10 Downing Street," Serkis' May has a back and forth conversation as Gollum and his alter ego Smeagol.
"We's in a nasty mess, my precioussss, and there's only one way out," Serkis wrote on Twitter, presumably a call for a second referendum that would reverse the 2016 outcome. "We wants it. We neeeeds it!"
We's in a nasty mess my precioussss…and there's only one way out….We wants it. We neeeeds it! https://t.co/ETpHUqmilf

— Andy Serkis (@andyserkis) December 9, 2018
"Oh precious, our agreement, this is it, our deal, yessss, yesss," Serkis' May says in the Gollum voice in the video. "We takes back control, money, borders, laws, blue passportses."
"No, it hurts the people – makes them poorer," Smeagol replies.
The clip was posted ahead of Tuesday's delayed Brexit vote in the House of Commons, with lawmakers likely to reject the deal due to its close alignment with European Union laws and institutions.
It is not the first time that Serkis has revived his iconic role for political purposes. Last year, the Planet of the Apes star appeared on Late Night with Stephen Colbert and read aloud President Donald Trump's tweets in Gollum's voice. Presenting an award for the Oscars in 2016, Serkis also compared President Trump, then the Republican presidential candidate, to a "planet-threatening monster."
Follow Ben Kew on Facebook, Twitter at @ben_kew, or email him at bkew@breitbart.com.
http://feedproxy.google.com/~r/breitbart/~3/Pc5C1FIo3Lw/