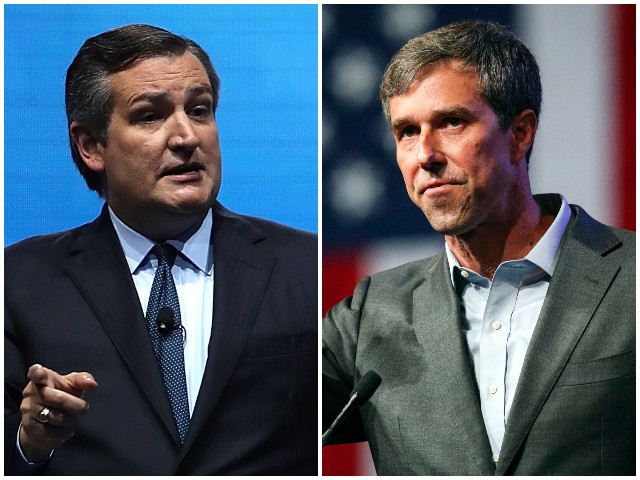 Sen. Ted Cruz (R-TX) and Democratic challenger Rep. Beto O'Rourke (D-TX) will hold the first of three debates for the heated Texas Senate race tonight in Dallas, TX.
Cruz and O'Rourke will debate at the Southern Methodist University in front of a live audience at 7:00 p.m. Eastern, 6:00 p.m. Central time.
Video of tonight's debate is provided courtesy of NBC 5 and The Dallas Morning News. The video will appear online at the top of this page at about 6:30 p.m. Eastern. Please refresh the page at that time.
Cruz hopes to serve his second term in the U.S. Senate since getting elected in 2012, while O'Rourke, a Democratic U.S. congressman, hopes to unseat him in traditionally deep red Texas.
The Texas conservative and O'Rourke have agreed to three debates; this is the first of the three. The two campaigns will host subsequent debates in Houston and San Antonio ahead of November's election.
Congressman O'Rourke faced backlash this week after he told a black American who questioned his support of illegal immigration that illegal aliens from Central America and Mexico are today's cotton pickers.
O'Rourke said:
I also went to the cotton gin in Roscoe. And at that cotton gin, there are 24 jobs and the manager of that gin says it does not matter the wages that I pay or the number of hours that we set … no one born in Roscoe … or Texas or this country who is willing to work. But there are immigrants who are coming from Central America or Mexico or other parts of the world to Roscoe to work these jobs and to help build our economy. [Emphasis added]
Cruz faces a competitive race against O'Rourke. While a recent Quinnipiac poll has Cruz up by nine points, another survey from CBS 11 found the Texas senator leads by only four points.
http://feedproxy.google.com/~r/breitbart/~3/t8lDcQWxmw4/